Onkyo TX-SR608
Three New HDMI v1.4, 3D-Ready AV Receivers
Onkyo USA has announced March deliveries of its first 3D-Ready home theater receivers. The new models consist of three A/V receivers ranging in price from $299 to $599, and all of them support the new HDMI v1.4 connectivity standard for new 3D video displays and Audio Return Channel capabilities. All are exceptionally well equipped to provide a superior music, home theater sound and video experience, with high build-quality and offering excellent value.
The new receivers now decode lossless Dolby TrueHD and DTS-HD Master Audio bitstreams, and include new 192-kHz/24-bit Burr-Brown PCM1690 DAC's that are highly resistant to clock jitter and provide a remarkable 113-dB dynamic range. The lineup includes Onkyo's new easy-to-setup overlaid onscreen graphical display that lets the user watch the program in the background while using the function menus. Additionally, all 2010 HDMI v1.4 models include a new feature call HDMI Thru, which allows content to pass through to the TV when the receiver is in a standby state.
The new TX-SR608 7.2-channel THX-Select2 Plus certified receiver has new power amplifier section that uses three-stage inverted Darlington output topology, and a power boost from 90 to 100 watts. Audyssey DSX dimensional sound processing has been added to its predecessor's Dolby PLIIz capabilities. Additionally, all video sources, including those using the new PC input, and regardless of source resolution, can be upscaled to big and beautiful 1080p via HDMI and Faroudja DCDi Cinema™. The TX-SR608 will also include a front HDMI input, a feature first introduced by Onkyo in 2009. The TX-SR608 will be available in April at an MSRP of $599.
The 5.1-channel TX-SR308 and 7.1-channel TX-SR508 round out this initial announcement of A/V Receivers from Onkyo. The TX-SR308 will be available in March with an MSRP of $299, a followed by the TX-SR508 in April for $399.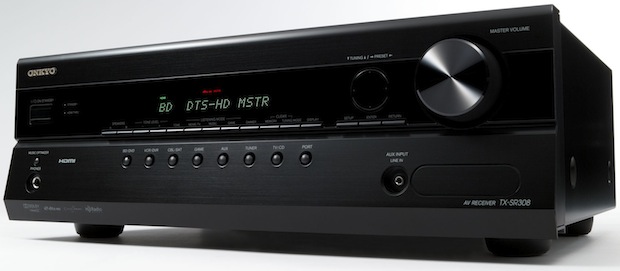 Onkyo TX-SR308