Onkyo announced the M-5000R classic styled power amplifier. The new M-5000R offers the best of the traditional and modern, with large front-panel analog power meters reminiscent of Onkyo's classic M-405 from the 1980s combined with state-of-the-art distortion reduction technologies and exceptional high current capabilities.
The company's advanced AWRAT amplification design is at the heart of the M-5000R power amplifier. AWRAT comprises DIDRC technology along with a low NFB design, closed ground-loop circuits, and high instantaneous-current capability. While the 8-ohm FTC rating is a conservative 80 watts, the amplifier's remarkable current capabilities allow it to drive even the most demanding complex-impedance loudspeakers to high levels, with a dynamic power rating of over 450 watts into 1 ohm. To minimize errors in stereophonic playback, the M-5000R uses a perfectly symmetrical alignment of power devices for the left and right channels.
Power efficiency on the M-5000R is optimized by three-stage inverted Darlington circuitry and a new Quad Push-Pull amplification design that incorporates two extra transistors for each channel. Meanwhile, twin toroidal transformers and four 27,000 µF capacitors work to stabilize the power supply and current, respectively. A high-grade XLR input opens up the possibility of doubling power output via a BTL (bridged transless) set-up.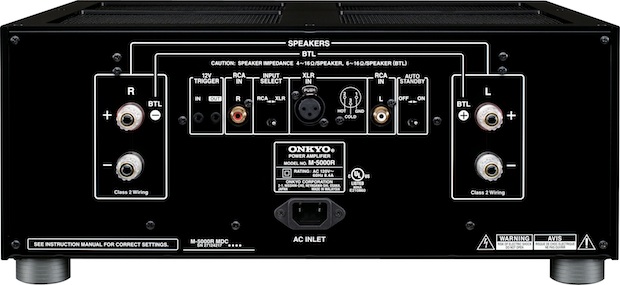 Price and Availability
The Onkyo M-5000R Power Amplifier will be available January 2011 for $2,499.