Onkyo just introduced two mid-priced, networked home theater systems with InstaPrevue, a new source selection technology that provides a picture-in-picture display of programs available on connected HDMI devices. The 5.1-channel HT-S6500 and 7.1-channel HT-S7500 home theater packages, each combine a sophisticated network receiver with lots of 3D-Ready HDMI inputs, high definition audio and video, and a set of five or seven surround-sound loudspeakers with a powerful subwoofer.
The Onkyo HT-S6500 and HT-S7500 are designed to deliver state-of-the-art high definition video with a Marvel Qdeo video processor that can upscale low-resolution video to 1080p for conventional high-definition displays, and to 4K for the new higher resolution displays. For HDMI sources, there is automatic decoding of Dolby TrueHD and DTS-HD Master Audio high-resolution audio sound tracks to provide fully immersive home theater surround sound. Both systems have built-in networking and USB digital access to a vast array of on-line and digital media resources.

HT-S7500
The Onkyo HT-S7500 is 7.1-channel system with two floor-standing front speakers for exceptional music and theater sound, a dedicated center channel for crystal clear dialog, four compact surround speakers for hair-tingling ambience, and a 120-watt powered subwoofer for deep bass effects. It also includes Dolby ProLogic IIz for the option of a front-height channel. The HT-S6500 is a 5.1-channel system with more compact speakers and the same subwoofer. Both systems are powered by an 80-watts -per-channel receiver with WRAT (Wide Range Amplifier Technology), a proven amplification concept that reduces noise and provides large amounts of controlled power instantaneously. Top quality TI Burr-Brown 192 kHz/24-bit DACs on all channels, a powerful 32-bit DSP processing chip and discrete amplifier design all contribute to exceptionally good audio performance.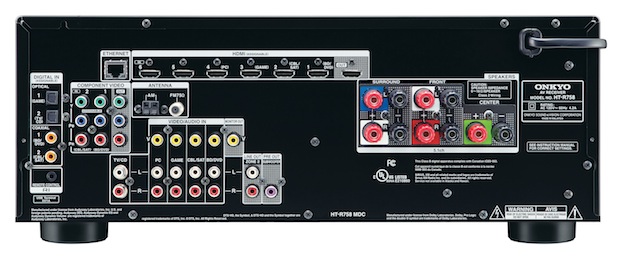 HT-S6500

HT-S7500
The HT-S7500 and HT-S6500 receivers both have HDMI inputs for seven and six source components, respectively, plus ARC (audio return channel ). They also have a direct digital connection for an iPod/iPhone via a front-panel USB Port. This port can also be used with Onkyo's optional UWF-1 Wireless LAN Adapter as well as the forthcoming UBT-1 USB Bluetooth adapter. Both receivers have connections for analog audio, optical/coaxial digital audio, and component and composite video for legacy source devices.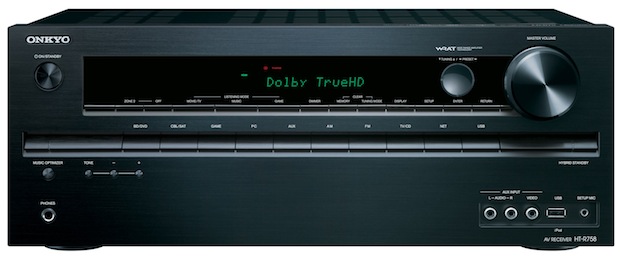 Front view, same for each receiver
These receivers offer exceptional Internet Radio connectivity with built-in modules for Pandora, Rhapsody, Slacker, SIRIUS XM Internet Radio, Last fm, vTuner, Spotify, and AUPEO! . They are DLNA certified, Windows 7 compatible, and support playback of MP3, WMA, WMA Lossless, FLAC, WAV, Ogg Vorbis, AAC, and LPCM audio files through a local network. Both receivers support Onkyo's remote control Apps for most iPod touch/iPhone, Android phones and Kindle Fire.
Audyssey 2EQ is included to correct room acoustics, Audyssey Dynamic EQ provides for loudness correction, and Audyssey Dynamic Volume to maintain optimal listening levels and dynamic range. Audyssey configuration is incorporated in the new Initial Set-up program. This program employs a graphical user interface that helps the user to set up the system easily and intuitively.
The Onkyo HT-S7500 has powered Zone 2 and the HT-S6500 has Zone 2 pre-outs. Both receivers have 4 DSP Modes for gaming: rock, sports, action, and RPG. Onkyo's Advanced Music Optimizer expands the dynamic range of comp ressed digital music files.
Price and Availability (June 2012)
See more home theater systems, speakers, A/V receivers or subwoofers.