Rechargeable Battery Functionality Makes Them Friends of the Environment; Industry-Leading Technology Makes Them Your Go-To Voice Recorders
Olympus launched a trio of WS series digital voice recorders and music players that have increased memory for longer use, incredible stereo recording fidelity for hours of high-quality audio and a unique retractable sliding high speed USB port for easy connection to a computer. All three recorders (WS-510M, WS-500M and WS400S) feature an improved intuitive design with larger LCDs for enhanced viewing and controls on the front for navigational ease.
The WS series will sport sleek portable bodies and easily transport essential files directly to and from a computer just like a USB flash memory drive, no USB cable required. For the first time, the WS-510M and WS-500M recharge their batteries via USB connection to a computer, which allows users to save money and reduce their environmental impact by not buying and throwing away disposable batteries.
"Whether you're in the dorm room, the classroom, or the boardroom, these WS series audio devices are perfect for capturing important meetings, storing critical work files, or listening to your favorite artists," said Amy Leslie, associate manager, Product Marketing, Olympus Imaging America Inc. "A more intuitive button layout and sliding USB connectivity make it easy to record and upload files, while increased memory enables longer recording than ever before."
WS-500M and WS-510M: Optimized for Audio Recording and Music Listening
| | |
| --- | --- |
| | |
| WS-500M | WS-510M |
Road warriors will appreciate that the WS-510M and WS-500M both feature double the flash memory of their predecessors (4GB and 2GB) and record more than 1,080 and 540 hours, respectively. Their built-in stereo microphones can record in the highest quality mode: Stereo Extra-High-Quality (STXQ) with dynamic stereo recording capabilities.
But when you want to mix some pleasure with your business, the WS-510M and WS-500M play MP3 and WMA files, and for the first time in a WS-Series they feature WAV (44.1kHz/16bit) audio playback mode. SRS WOW XT effects add higher quality to these popular file formats. Specifically designed for small devices with speakers that are physically located close together, SRS WOW XT technology enables the speakers to capture full-panoramic stereo sound. As a result, the reproduced sound is much closer to what the artists originally intended and delivers to headphones the same immersive and powerful 3D audio experience usually found at a live concert.
Whether they're capturing the meeting or playing tunes in transit, these devices look just as good as they sound. The WS-500M comes in silver, pink or blue tones to match your individual style, and the WS-510M is available in a dapper grey.
WS-400S: Ready for Business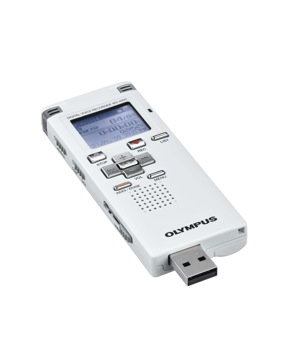 The sleek WS-400S offers 1GB of internal flash memory to capture up to 272 hours of Windows Media Audio files on its built-in stereo microphone. It now features two new higher-quality recording modes, super standard play (SSP), and super high quality (SHQ) for better sound quality. Its higher quality audio allows users to work more efficiently because their recordings of interviews and lectures will play back better. Clad in a glossy white finish, it's easy to find even at the dark bottom of a briefcase, handbag or backpack.
Sliding USB Connectivity
For the first time, the WS series audio devices feature a retractable USB port that slides out for easy access to personal computers. This simplifies operation as there is no need for a docking station or cable. When not in use, the USB port neatly tucks back inside.
Improved Intuitive Design with Enlarged LCD
The WS series is outfitted with an ergonomic dial thumb pad enabling the user to easily play or stop a recording, adjust the volume level, fast-forward and rewind with the touch of one button. The Erase/Index and Menu buttons are positioned individually below the thumb dial for easy access during use.
A new larger backlit LCD is easy to read and much more useful when navigating the menu screen. It reveals file information, recording time and events clearly. A stereo microphone is located on the top, and a speaker for audio playback is located on the front of the devices.
Rechargeable Battery Function
Tired of filling landfills with costly disposable batteries? The WS-510M and WS-500M use a single included rechargeable AAA battery that recharges by plugging into the USB port on any computer for added convenience. In situations where a charge is not available, it is also possible to power these audio devices using easily-obtainable AAA alkaline batteries.
Playback Features
Users of the new WS series will benefit from the different playback settings. After capture, the slow playback option allows recordings to be listened to efficiently with playback that is 50 percent slower than real time. The fast playback option allows recordings to be played 50 percent faster than real time. Traditionally, users will keep rewinding to hear what was said, but with slow playback they will be less likely to do so, and they can skip ahead to the sections that are important with fast playback. Also, a repeat playback option enables user to select a specific portion of a file to playback again.
Accessories
WS series digital audio devices are compatible with a range of optional Olympus accessories, including a convenient black leather case that will be available for $19.99.
Availability
The WS-510M, WS-500M and WS-400S will be available in April 2009.
U.S. Pricing