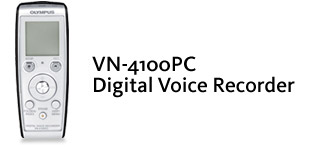 VN-Series Digital Audio Devices Provide An Amazing 144 Hours Of High-Quality Performance; Extended Capabilities Ideal for Students and Professionals on the Go
Olympus, the leading manufacturer of digital voice recorders, today announces the next generation of VN-series devices with twice the storage capacity. Thanks to 256 megabytes of internal memory, the new VN-4100 and VN-4100PC each hold up to 144 hours of high-quality audio within their compact, ergonomically designed bodies. Both models also feature multiple recording modes, large LCD screens and functional design elements that render them ideal for classes, conferences or recreational use.
"Olympus is continuously creating new ways to make day-to-day tasks simple without relinquishing function, design or reliability," said Andy Flagg, director, Sales and Marketing, Olympus Imaging America Inc. "These two new models offer superior sound quality and ease-of-use with double the capacity of their predecessors, allowing them to put in as many hours as you do."
The new VN-series voice recorders are distinguished by a number of features, including:
Four recording modes, including the "Extra High Quality" (XHQ) for superior sound quality, as well as HQ, SP and LP modes for extended recording durations;
25 hours of battery life;
Timer recording mode and various playback options that allow for ease-of-use.
Quality and Quantity
Looking for superior sound quality as well as longer recording capabilities? The reliable VN-series now enable users to record up to 144 uninterrupted hours of audio with 256 megabytes of internal memory. Designed with four recording modes that enable recording times of various lengths, users can capture superior sound through the XHQ mode or use the standard HQ mode, LP and SP modes for extended recording.
Make the Connection
The new VN-4100PC incorporates a PC Link, enabling users to transfer audio files to almost any PC using the included USB cable. This feature enables users to connect with speed and ease, and once downloaded, files can be edited, archived or emailed to friends and family.
Easy Recording and Playback
A Timer Recording mode is available for instances when recordings need to begin at specific times. It works by setting a beginning time to start recording and an end time to stop recording. This feature is valuable for those who do not want to call attention to the fact that they are making a recording by pushing the record button, or when timing is essential to capture the recording.
Users of the new VN-series digital recorders will welcome the control provided by the various playback settings. After capture, the slow playback option allows recordings to be played at 25 percent slower than real time, assuring more efficient note taking or transcription. The fast playback is 50 percent faster than real time, allowing users to skip ahead to essential segments.
The VN-series also features the Variable Control Voice Actuator (VCVA) function, extending recording time by recording only when the microphone senses sound. This function is a significant time-saver, reducing the need to fast-forward past pauses in conversation.
Intelligent & Stylish Design
Given their contoured, lightweight, compact design, the VN-series digital audio devices always prove to be ideal travel companions. Both devices have large, easy-to-read LCD screens that reveal file information, recording time and events.
A speaker for audio playback is located on the back of each recorder. Both models are equipped with an ergonomic jog-dial thumb pad allowing the user to play, stop, fast-forward and rewind with the touch of one button. The record and erase buttons are positioned individually for easy access and to eliminate confusion when handling.
The VN-4100 makes a fashion statement with a chic Champagne Gold top plate, and the VN-4100PC boasts a sleek silver top plate with black sides.
File Management
The VN-series digital audio devices deliver an easy-to-use interface that allows users to accurately organize digital files. The new VN-series devices have four separate file folders that provide users with unparalleled organization for meetings, dates, reminders etc. Each folder holds 100 messages.
Lasting Power, Lasting Value
The VN-series digital devices have up to 25 hours of continuous operation made possible by the long battery life of two AAA batteries. The new devices also feature a one-year warranty.
Availability
The VN-4100 will be available in April 2007. The VN-4100PC will be available in May 2007.
U.S. Pricing
VN-4100 Digital Voice Recorder Estimated Street Price: $39.99 (U.S.)
VN-4100PC Digital Voice Recorder Estimated Street Price: $59.99 (U.S.)