Olympus has introduced the new Tough TG-310 Waterproof, Shockproof and Freezeproof digital camera. It builds on the Tough series' reputation of delivering amazing images while enduring extreme expeditions and everyday adventures, including life with kids.
The new Tough camera is Waterproof (to 10 feet), Shockproof (to 5 feet) and Freezeproof (to 14 degrees Fahrenheit) to deliver amazing images even when you take them to extremes. It delivers superior image quality thanks to 14 megapixels, high-definition (HD) video, wide-angle 3.6x optical zoom lens and dual image stabilization.
Features
HD Movie & HDMI Control — high-definition video (HD video) delivers a broadcast-quality movie experience when played back on a high-definition television (HDTV);
3D Photo Mode — captures two shots of a scene from two different angles to create still photos that can be viewed with the added excitement and realism of 3D;
Eye-Fi Card Compatibility — allows automatic wireless uploading of images to the website or PC of your choice;
New Magic Filters — make it possible to create special artistic effects in still images and/or movies directly in the camera;
In-Camera Panorama — offers quick and easy panorama shots; and
AF Tracking — tracks a moving subject automatically and keeps it in focus for optimal image quality.
HD Videos and HDMI Control
The TG-310 shoot gorgeous 720p HD videos above and below the water's surface, so you'll always capture the moments you cherish in clear, crisp high-definition at the touch of a button. With HDMI Control, playback is also a breeze. Gone are the days of friends and family huddling around your camera's tiny LCD to see the pictures and movies you just captured. Now, you'll be the hit of the party or any family event when you proudly display your brilliant images and movies on high-definition televisions. Simply connect the camera to an HDTV with an optional HDMI cable. With HDMI Control, you can use your HDTV's remote to control playback functions and navigate the camera's menus from the comfort of your couch.

New 3D Mode
Now you can add even more dimension to your photographs by shooting dynamic 3D photos in any mode from macro to landscape, and even under water. Recreate a sense of depth like that of the original scene. Catch a shot of your friends and view it in 3D. Simply select the 3D Photo Mode, release the shutter for your first shot, and slowly pan until the camera automatically takes a second image from a slightly different perspective. The 3D data is processed in-camera resulting in an .MPO file, the universal industry 3D format for easy display on 3D televisions or laptops.
New Eye-Fi Card Compatibility
The TG-310 is compatible with Eye-Fi SD cards (sold separately) adding Wi-Fi capability to the camera enabling you to automatically upload images to your computer as you take them. Share your pictures of sandcastles right from the beach by uploading your shots immediately.
New Magic Filter Movie
The TG-310 is equipped with in-camera Magic Filters that enable users to enhance and customize images as they're being captured. Have more fun and get more flexibility without expensive and time-consuming computer software. Magic Filter Movie is a powerful new feature that allows you to apply Magic Filters to your high-definition movies to take them to a new level of artistic expression and put you in the director's chair.
The Magic Filters include:
Pop Art – enhance and saturate colors to create vivid, high-impact pictures that express the joyful, lighthearted feeling of the Pop Art style of the 1960s;
Pin Hole – reduce the peripheral brightness of an image as though it were shot through a pin hole, connecting the viewer intimately with the subject at the center;
Fish-Eye – emulate the wide-angle of a fish-eye lens by taking extremely wide, hemispherical images and magnifying the center of the frame;
Soft Focus – encloses the foreground of an image in gentle, pastel colors with a soft, elegant focus; similar to effects achieved in a studio;
Drawing – turn your image into a sketch outline for children to color;
New! Watercolor – transform your images with a finish like that of watercolor paintings;
New! Sparkle – shoot photos with the luxurious feel of added twinkling lights; and
New! Punk – create two-tone images full of rock and roll spirit.
Point-Dunk-and-Shoot with Powerful Underwater Functions
The TG-310 can dive 10 feet underwater and includes one preset underwater scene mode. Also capture HD movies above and below the surface. A water-repellent lens coating prevents water droplets from forming on the lens, enabling you to get crystal-clear shots no matter how wet the shooting environment.
Wide-Angle Optical Zoom
The TG-310 has a 3.6x wide-angle optical zoom (28-102mm equivalent), ideal for shooting various journeys such as camping, hiking, climbing, mountain biking, skiing or simply your family vacation.
Shockproof
The TG-310 can withstand a 5-foot drop, thanks to their shock-absorbing technology, which minimizes the impact on the lens and circuitry, so they'll take more punishment.
Freezeproof
The TG-310 can still perform when the temperature dips well below freezing (14 degrees Fahrenheit; -10 degrees Celsius). Enjoy consistently sharp and vivid high-resolution images in freezing situations where most traditional cameras would fail.
Dual Image Stabilization
Dual Image Stabilization combines two technologies — Mechanical Sensor-Shift Image Stabilization and Digital Image Stabilization — to provide one powerful anti-blur solution for capturing great images whether the photographer or the subject is moving. Olympus' Mechanical Sensor-Shift Image Stabilization keeps images sharp by adjusting the internal image sensor to compensate for camera movement, even in low-light conditions when shutter speeds are slower. Additionally, Digital Image Stabilization freezes the action with high ISO sensitivity and fast shutter speeds to prevent blurry images often caused by a moving subject.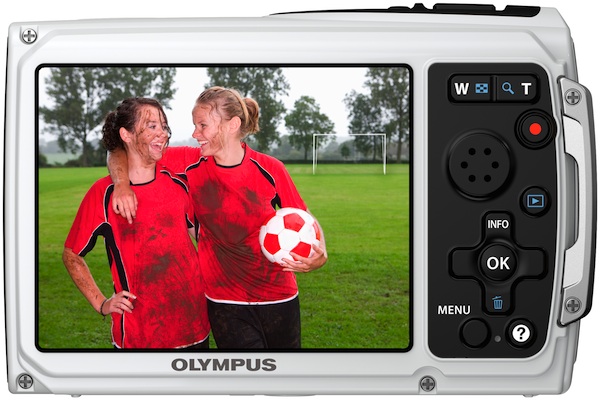 Face Detection
The TG-310 can detect up to 12 faces within the frame and automatically focuses and optimizes exposure to capture sharp, brilliant portraits and group shots. Even more remarkable, Beauty Mode offers touch ups to the appearance of your subject's skin as the photo is captured, enhancements that typically would necessitate retouching in a graphics editing program.
AF Tracking
The AF Tracking technology on the TG-310 locks your subject in focus and continuously adjusts focus and brightness whether you or your subject is moving, and is perfect for unpredictable situations like photographing skiers on a mountain, tropical fish while snorkeling or children at play in the backyard. There's even two newly designed "Pet Modes" for animal lovers, offering the ability to recognize the faces of a variety of breeds of both cats and dogs.
Intelligent Auto Mode
Intelligent Auto Mode automatically identifies what you are shooting (i.e., Portrait, Night + Portrait, Landscape, Macro and Sports) and adjusts the camera's settings to capture the best quality results. Amateurs can jump into this quick and hassle-free feature that does the thinking for them and produces incredible images.
In-Camera Panorama
In-Camera Panorama mode makes it easy to capture three images and stitch them together to create one amazing panoramic picture. Simply press the shutter button and slowly pan across the scene. The second and third images will be captured automatically and stitched together with the first image — resulting in one seamless panorama-size picture. To create the ultimate panorama, consumers can use the OLYMPUS [ib] software to stitch up to 10 images together.
New TruePic III+ Image Processor
Olympus developed its exclusive TruePic III+ image processor for the demanding performance of digital SLR (single lens reflex) cameras. Olympus' enhanced TruePic III+ Image Processor produces crystal-clear photos using all the pixel information for each image to deliver superior picture quality with more accurate colors, true-to-life flesh tones and faster processing speeds. TruePic III+ also captures crisp, clear images at high ISO settings, which are traditionally associated with increasing image noise or producing grainy photos.
OLYMPUS [ib] Software
All Olympus digital compact cameras now offer the new OLYMPUS [ib] photo organizing and editing software. It includes photography workflow, browsing, editing and unique photo organizing functions. You can organize photos by person with automatic face-recognition technology, by place with a map-tagging function, or by event. All information will be tagged in each photo's data. You can then easily upload images to the integrated online service, [ib on the net], to share and backup photos, as well as order prints and photo merchandise. The name [ib] stands for image bridge, because the software is designed to create a bridge to help you get images from your camera to services where you can do more with your photos.
SD Compatibility
Olympus' new spring 2011 digital compact cameras offer SD capability for up to 32 gigabytes of capacity.
Price, Color and Availability
The Olympus TG-310 will be available February 2011 in red, silver, blue, orange and white for $199.99. It includes a wrist strap, WIN/Mac USB cable, audio/video cable, Li-Ion rechargeable battery, manual, warranty card and OLYMPUS [ib] software.