Built-in Stereo Mics Deliver Super High-quality Recording And Simple Playback
Olympus just announced two new DM series digital audio devices with large color LCDs and easy-to-navigate menus for audio recording, editing and playback of podcasts, music, audio books and textbooks. The DM-4 and DM-2 deliver internal memory storage capacity of 8 gigabytes and 4 gigabytes, respectively, as well as external microSD compatibility. The DM-4 also offers voice recognition so users can verbally navigate menus with voice commands and set the time and date, as well as create a schedule using only their voice.
"These new DM recorders are the perfect tools for students and professionals to capture audio files and keep them organized," said Amy Leslie, product manager, Olympus Imaging America Inc. "The devices also are ideal for personal time when playing music, podcasts and audio books. Text to speech, voice recognition and DAISY (Digital Accessible Information System) compatibility of the DM-4 makes it a great tool for the blind and dyslexic community as well."
Large 2.2-Inch Color LCD with Easy-to-Use Interface
As the first Olympus recorders to employ large color LCD screens, the DM-4 and DM-2 deliver an easy-to-use interface that enables users to accurately arrange digital files with unparalleled organization for meetings, dates and reminders. Both have folders for recording music, podcasts, audiobooks, pictures and schedules. Also in the DM-4, the Visual Index function allows users to link images to the recorded audio file; name and file your recordings using images instead of text to easily identify and retrieve later.
Super High-Quality Recording In Your Pocket
Both new DM audio devices offer built-in stereo microphones and can record and play super high-quality stereo PCM, MP3 and WMA (Windows Media Audio) files. This provides users with extreme flexibility for school, work and fun. Never wonder again what the professor was saying since you can play it back later in super high-quality audio. With infinite listening possibilities, there's never a dull moment with the new DM recorders. Download an audio book and listen to it at the gym and then hear your favorite podcast on the ride home.
Voice Recognition with DAISY
The DM-4 features Voice Recognition so that users can command the device and add items to their lists and calendars. The DM-4 also is a DAISY Player certified by Daisy Consortium, which means that it can play digitally recorded material in the DAISY talking book format popular with the visually impaired and those with Dyslexia and other learning disabilities.
Voice Guidance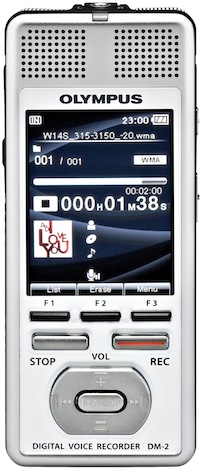 The DM-4 and DM-2 feature a voice confirmation function that can be turned on or off. When turned on, the function enables the devices to speak, helping users to navigate the folders and various set-up options. The pleasant automated voice guides users through the onscreen menus for setting date, time and other menu selecting modes. It also confirms by stating the folder name as the user moves from one folder to another. This enables visually challenged users to achieve equal accessibility while capturing recordings and easily moving through the device's menus, folders and set-up options.
Text to Speech
The Text to Speech function in the DM-4 enables users to hear file information, such as the time and date of the recording as well as keywords that users can set. This function also allows users to identify each file without listening to the recorded content. Text files (ending in .txt) also are compatible with the DM-4. Whether driving to work or exercising, users can now listen to their text files instead of reading them.
Memory Capacity and Expandability
The DM-4 has 8 gigabytes and DM-2 has 4 gigabytes of internal memory for more than 2000 and 1000 hours of recorded sound, respectively. Both audio devices feature a removable microSD media card slot to further expand capacity by up to 16 gigabytes. During a busy day of recording, changing optional microSD cards is an easy way for users to capture more audio without taking time to download files to a computer.
Long-Lasting Power with Rechargeable Battery Function
The DM-4 and DM-2 operate for more than 20 hours with a rechargeable Lithium-Ion battery that can be charged using the AC adapter or by connecting to a computer via USB.
Olympus Sonority Software Compatible with PC or Mac
Enjoy your sound with the included easy-to-use Olympus Sonority Software. You can erase noise, adjust sound effects and divide files, to name a few options. The software allows for uploading, organizing and emailing of audio files and direct downloading of podcasts. The software also expands your sphere of activities thanks to its compatibility with any PC or Mac. Users also can enjoy DAISY multimedia contents in the software.
Make the Connection
The USB 2.0 high-speed connection delivers fast downloads and uploads of files to and from the DM-4 and DM-2 using the included USB cable. No need to download any software since you can record in WMA, MP3 and WAV formats on the new devices. This feature enables users to connect with speed and ease, and once downloaded, files can be archived or emailed to friends and family.
Availability
The DM-4 and DM-2 will be available in June 2010. The DM-4 will be available in black and the DM-2 will be available in silver. They will include Li-ion Battery, AC Adapter, Stereo Earphone, USB Cable, Conversion Cable (DM-4 only), Carrying Case, Strap, Olympus Sonority Software, Instruction Manual and Warranty Card.
U.S. Pricing