NuForce introduced Dia, a 24bit/192kHz D/A converter (DAC) and 24-watt stereo amplifier for home audio/visual and streaming devices. The NuForce Dia is an all-in-one solution for consumers looking to access high-quality audio from their favorite A/V components- TVs, DVD, Blu-ray, and more.
Users can connect their electronics to Dia through its optical or coaxial digital inputs. Then Dia's high-performance 24W stereo power amplifier and audiophile-grade sound card drives powerful, crystal-clear sound through your existing speakers and subwoofer for the ultimate 2.1 Stereo experience from:
Wide screen and high-definition TVs
Satellite receivers and set-top boxes
Gaming consoles
Blu-Ray/DVD/CD players
Media streaming devices like AirPort Express and Apple TV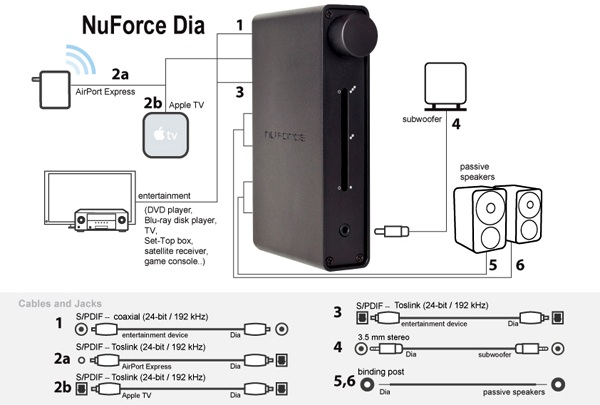 Dia is a compact way to improve audio from existing home electronic devices, including Apple TV and AirPort Express. Dia provides high-quality audio since it bypasses the internal built-in digital-to-analog converters found in most A/V equipment and performs that function separately. Dia adds a new level of realism and exquisite detail to virtually every component you may already own–without any additional receivers or peripherals.
"We developed Dia out of my own personal frustration after I purchased an Apple TV and realized that there was no affordable and easy-to-use audiophile-grade digital amplifier solution," said Jason Lim, CEO of NuForce. "Dia is an answer for consumers that want phenomenal sound from the devices they already own without breaking the bank."
NuForce's Dia can be used in a multitude of combinations. For example, consumers can connect their flat screen TV's digital audio output to the Dia and then add a pair of high-quality speakers, including a subwoofer. This offers high-performance stereo sound without having to set up a home-theater receiver. Users can also connect any wireless media streaming device, such as AirPort Express and Apple TV, to form a compact, high-performance wireless AirPlay system.
Specifications
Inputs: Digital: 2 x TOSLINK, 1 x RCA Coaxial 75-Ohm
Maximum sampling rate: 192kHz
Resolution: 24-bits
Outputs: Line Out (for Subwoofer) connection
Speaker Output: Peak power: 30W x 2 (4 Ohm)
Output power at 1% THD+N, A-weighted: 24W x 2 (4 Ohm), 18W x 2 (8 Ohm)
Frequency response: 20 to 20kHz ±1dB
SNR > 90dB A-weighted
THD+N: 0.02%
DC Requirement: 12-15V, up to 60W; 60W 100-240VAC worldwide voltages PSU is included
Dimensions: 6″ x 4 1/2″ x 1″
Weight: 1 lb.
Included Accessories: IR remote, silicon stand, power supply
Price and Availability
The NuForce Dia is available now for $299 from NuForce's online store and NuForce resellers.
See more about: New DACs, Amplifiers, Streaming