Six-Source, Six-Zone Whole House Audio Receiver Wins Coveted Industry Award in "Multizone Receiver" Category
Niles Audio Corporation, The First Name in Custom Installation, has announced the ZR-6 MultiZone Receiver has been named the recipient of a 2008 Multiroom Audio/Video (MRA) Award. Sponsored by the Consumer Electronics Association (CEA) and Home Lighting Control Alliance (HLCA), the MRA Awards recognize the industry's leading products in innovation, functionality and overall value. Niles' ZR-6 is a six-source, six-zone whole house audio receiver outfitted with features that today's multizone customers demand most often — including One-Touch to EntertainmentTM, Plug-and-Play iPod integration, a built-in AM/FM tuner and weather-resistant keypads. The 2008 MRA Awards are presented in conjunction with Electronic House Fall Expo 2008 in Long Beach, Calif.
"We are honored to have the ZR-6 MultiZone Receiver recognized as a Multiroom Audio/Video Award winner," said Frank Sterns, president of Niles. "The ZR-6 provides dealers a multizone receiver solution with all of the features demanded most often, including one-touch operation and iPod integration, along with weather resistant keypads with metadata display. Having the ZR-6 honored with this prestigious award speaks volumes about its balance of performance and functionality."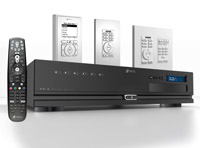 The ZR-6 independently distributes up to six audio sources to as many as six zones (expandable to 18) for high quality entertainment throughout a residential or light commercial installation. In addition to a built-in AM/FM tuner that works right out of the box, the ZR-6's impressive Plug-and-Play capabilities allow users to integrate their iPods with no additional programming. Adding to its ease-of-use, the ZR-6's dramatically simplifies the installation process thanks to an intuitive, built-in wizard that eliminates the need for computer programming.
For enhanced system functionality, ZR-6 customers may choose from a variety of control solutions, including a color touchscreen and weather-resistant keypads, to ensure the perfect level of control for any location. The ZR-6's array of control options include the TS-PRO, a 3.5″ color touchscreen display that provides elegant system control plus metadata information, the Solo-6MD, a single-gang keypad with metadata display, the Solo-6IR, an elegant single-gang keypad, and the Numeric-6P, an easy-to-use numeric keypad which works in conjunction with the Solo-6IR. The R-8L Learning Remote Control, included with the ZR-6 and also available as an additional accessory for outfitted zones, provides advanced control for all sources as well as a local TV and associated cable/satellite receiver and comes preloaded with commands for the ZR-6 as well as many popular brands.