BENICIA, CA, March 1, 2007 — NHT, an independent audio company dedicated to designing and manufacturing high performance speakers and components that add a distinctive aesthetic flair to almost any decor, is beginning to ship a new speaker system that lets consumers enjoy a high-definition audio experience to complement their new, high-definition flat panel displays, while remaining visually elegant, simple to use and affordable.
The new system, dubbed "Verve", features two (2) different satellite speaker sizes and one (1) subwoofer, and is available in a variety of configurations, both with and without the company's complementary electronic components. (See addendum for configurations and pricing.) NHT designed Verve to be sold as a "system" rather than as individual components in order to ensure a simple set-up process with the best possible sound.
"Verve is an example of what we do best — offer high-performance, application-based products, with an attractive design aesthetic at a price point that belies the system's abilities," said Andy Regan, NHT's Senior Vice President of Sales and Marketing.
"With Verve, we created a system that follows the NHT acoustical mandate for accuracy and high output, yet with enough flexibility to meet the schizophrenic installation challenges presented by flat panel TV," said Regan. "By limiting the number of complete system options, we can optimize performance and guarantee user satisfaction without being overly expensive or complicated."
Verve Satellite Speakers
Verve epitomizes the best of the brand's sonic attributes as well as its reputation for offering speakers and electronics with a keen design aesthetic. Verve satellite cabinets are made with aluminum braced Bulk Molding Compound (BMC) that provides a high level of design flexibility with minimal cabinet interactions that are especially critical in small speakers.
With today's flat-panel TV's being mounted on walls or tables, NHT designed Verve satellites to accommodate both locations with an integrated, removable table stand. When detached, the satellite is easily mounted to a wall by way of an included wall mount key that can be relocated to allow for both vertical (both satellites) or horizontal (large satellite only) orientations with no performance penalties.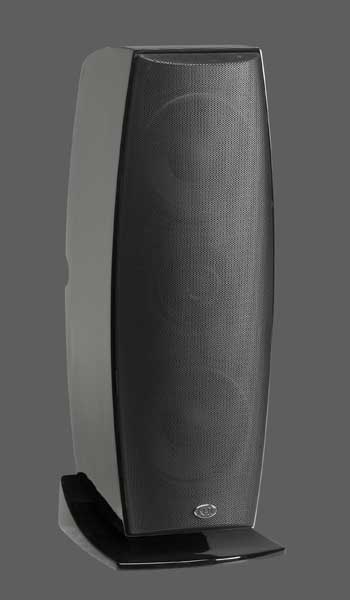 The large satellite is designed for use as front and center channels, offering the same wide dispersion characteristics in both horizontal and vertical installations. Verve's small satellites are designed to accommodate both surround and rear channel applications either on tables or wall mount locations.
The Verve satellite speakers, which measure 10.5″ x 5.5″ x 6.25″ and 15.5″ x 5.5″ x 6.25″ (HxWxD), for the small and large models, respectively, feature an acoustic suspension, three-way design, with a coaxial driver containing a ¾" tweeter and a 3″ midrange drive unit supported by a single 4″ woofer in the small satellite and dual 4″ woofers in the large satellite.
The Verve Subwoofer
Subwoofers bring out the deep bass and excitement in movies and music, but most subs are big, boxy components that sometimes stand out in a room for all the wrong reasons. In keeping with the design aesthetic of the Verve system, NHT created a subwoofer with a tiny
footprint and delicate look that typifies the company's approach to practical, yet visually appealing industrial design.
One of the advantages in designing a dedicated system is that bass response relative to the satellites is known, which allowed NHT engineers to simplify setup and control of the Verve subwoofer. Verve omits the technical controls and guesswork common on subwoofers and replaces them with a single, front panel mounted volume control that allows the end-user to easily adjust bass response for the most consistent performance in any room.
Designing a compact subwoofer with high output was a formidable challenge. NHT's engineers created a subwoofer that measures only 6″ deep. The power switch and signal connections are located on the bottom of the cabinet for maximum placement flexibility while making the cables easy to conceal. Thanks to this form factor, the Verve subwoofer can be placed flat against a wall or furniture, or laid on its back under a table or sofa.
The Verve subwoofer includes two active aluminum cone 10″ drivers in an acoustic suspension enclosure, powered by an internal 200 Watt, cool-running digital amplifier that permits high output with extraordinarily low distortion characteristics. An audio sensing circuit automatically turns the subwoofer off and on based on whether a signal is present.
NHT's Verve line-up is shipping to dealers as of this month.
About NHT
Since it was founded in 1986, NHT (www.nhthifi.com) has continually challenged the notion that the very best sound reproduction must come at a premium price. NHT takes pride in designing and marketing loudspeaker systems that provide a lifetime of listening pleasure. Its products from past to present speak volumes of NHT's dedication to sonic excellence. For NHT media inquiries, including interviews, product images and loans, contact: Adam Sohmer, SOHMER ASSOCIATES, 718-499-9161 (voice/fax), 347-512-0066 (cell), adam@sohmerassoc.com.
Addendum: NHT "Verve" — System Options and Pricing
– Verve 2.1 Speaker-Only System, with two (2) large satellites and Verve flat powered subwoofer: $1,359 SRP
– Verve Home Theater System, with three (3) large satellites in front, two (2) small satellites in the rear, and Verve flat powered subwoofer: $1,999 SRP
– Verve Home Theater System, with three (3) large satellites in front, two (2) iC2 in-ceiling speakers in the rear, and Verve flat powered subwoofer: $1,899 SRP
– Verve Stereo Complete System, with NHT Controller, Power2 amplifier, two (2) large satellites, and Verve flat powered subwoofer: $5,310 SRP
– Verve Complete Home Theater System, with NHT Controller, Power5 amplifier, three (3) large satellites in front, two (2) small satellites in the rear, and Verve flat powered subwoofer: $6,750 SRP
– Verve Complete Home Theater System, with NHT Controller, Power5 amplifier, three (3) large satellites in front, two (2) iC2 in-ceiling speakers in the rear, and Verve flat powered subwoofer: $6,570 SRP