NEC announced today the M300X Portable Series LCD projector which replaces the NP510 model.
Present with ease using the NEC M300X, a value-driven, eco-friendly portable projector ideal for education and small-to-medium-sized business environments. This 3000-lumen model delivers remarkably bright images and features wired and wireless (optional) networking, HDMI and USB inputs, high contrast, remote monitoring, maintenance-free design, and up to 6000 hours of lamp life (in ECO Mode). Ideal for K-12 classrooms and conference rooms, the M300X touts an active lens cover, which hides content, mutes audio and lowers lamp brightness to 25%, allowing you to maximize the effectiveness of your presentations.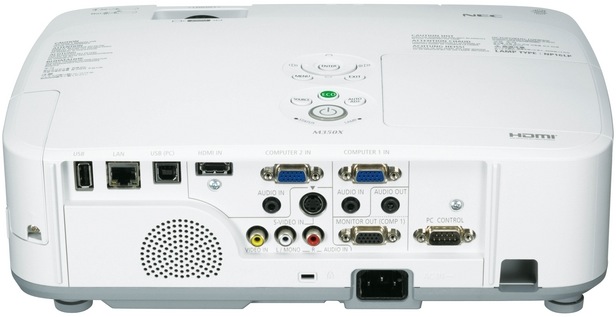 Features:
XGA native resolution (1024×768),
UXGA maximum resolution (1600×1200)
Brightness up to 3,000 lumens
Contrast Ratio: 2,000:1
Lamp life up to 6,000 hours when operated in ECO Mode
6,000-hour filter life provides a virtually maintenance-free projector and lowers the total cost of ownership
New cabinet design
Ample input connectivity, including HDMI and USB
10-watt speaker
Variable audio-out to connect the projector to an external speaker and control the volume with the projector's remote control
RS-232 with less than 1 watt consumption in standby mode
DICOM Simulation enables users in medical environments to display accurate diagnostic images
Image Express Lite enables the wireless transmission of an image to the projector without the need for external components
Wireless LAN Connection IEEE801.11n (optional)
Cornerstone correction using PC software allows users to easily square an image when the projector is set up at an angle to the screen
Geometric Correction allows the projector to easily display an image on a cylindrical, spherical or other shaped screen without distortion
Auto vertical keystone correction instantly projects a square image even when the projector is set up at a steep offset angle to the screen
USB Viewer allows users to present in seconds by using a flash drive to project jpeg images without a computer source
Virtual Remote (DDC/CI) allows users to control the projector directly from a computer without the need for additional control cables
Active lens cover enables presenters to hide the display of content, mute the audio and lower the lamp brightness to 25% for a short period of time
Closed captioning enables decoding and display of text information from a video source
ECO Mode allows for multiple settings dependent upon the brightness required in the application and power savings desired by the user
Carbon savings meter calculates the positive effects of operating the projector in ECO Mode, which is encouraged by an optional message at startup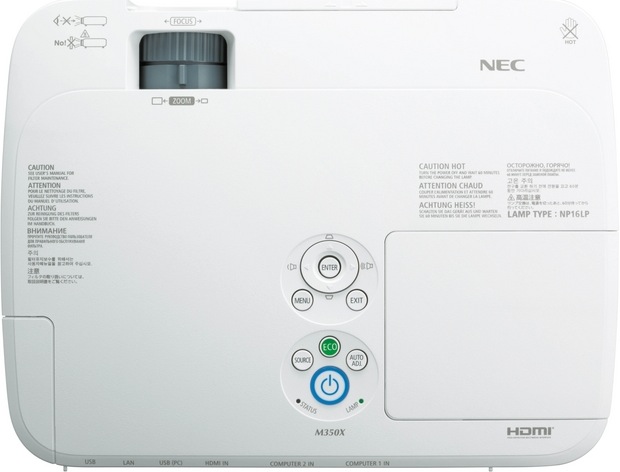 Price and Availability
The new M300X Portable Series projector will be available in October 2010 at $899 MSRP.
NEC also announced the exact looking M260X and M260W portable projectors today.