BEDMINSTER, NJ and LIBERTYVILLE, Ill. – Motorola, Inc. (NYSE: MOT), a global leader in wireless communications, and Verizon Wireless, the nation's leading wireless service provider, today announced availability of the Motorola RAZR V3c. Verizon Wireless customers can purchase the Motorola RAZR V3c online at verizonwireless.com beginning tomorrow and in Verizon Wireless Communications Stores starting on December 12.
In addition to the phone's coveted ultra-thin design, the Motorola RAZR V3c comes equipped with Verizon Wireless' V CAST multimedia service. V CAST from Verizon Wireless is the first true wireless broadband multimedia service in the country, allowing customers to view crystal clear video clips on demand. V CAST programming includes content from trusted news sources, the greatest sports and a huge variety of entertainment programs. V CAST runs on Verizon Wireless' Evolution-Data Optimized (EV-DO) network – the largest high-speed wireless broadband network in the United States. The V CAST coverage area, which mirrors the Verizon Wireless EV-DO network, is available to more than 140 million Americans in 171 major metropolitan markets and is expanding coast to coast.
The Motorola RAZR V3c also offers certain profiles of Bluetooth wireless technology, an office-quality speakerphone and up to 30 megabytes of embedded memory. Weighing in at a mere 3.49 ounces, the surprisingly slim Motorola RAZR V3c balances its productivity tools with a 1.3 megapixel digital camera, video record and playback and speech recognition capability. Other features of the RAZR V3c include:
Video/Camera
1.3 Megapixel Camera
30 MB user storage
2.2″ 176 x 220 internal screen 65K TFT color display
1.0″ 96 x 80 external 65K CSTN color display
Video Resolution: 176 x144
Camera Resolutions: 160 x 120, 320 x 240, 640 x 480, 1280 x 1024
Self Timer: 5 or 10 seconds
Color Effects: Normal, Sepia, B&W, and Negative
Fun Frames for Photos
Mobile Media
VCAST Service –stream and download video clips on the EV-DO network
Mobile Web 2.0SM
Get it Now Capable
Mobile Instant Messaging (IM)
Picture and Video Messaging Service (MMS)
Two-Way TXT Messaging Service (SMS)
Data & Text
Up to 11 lines text
Up to 1000 phonebook entries to store all your contacts
Tools: Calculator, Calendar, Alarm Clock and Voice Memo
Voice/Audio
Polyphonic ring tones, plus 5 VibraCall vibrating alerts and silent
Advanced Speech Recognition
Integrated speakerphone
General
Bluetooth — Capable: Supports the Headset and Hands-free Profiles. Does not support Bluetooth OBEX Profiles.
Handset Insurance: Yes
5-way navigation key
GPS capable for E911 emergency location
TTY compatible
Hearing Aid Compatibility = M3
Specifications
1.9 GHz CDMA PCS I 800 MHz CDMA
EV-DO Digital Only
Dimensions: 3.86 x 2.08 x 0.57 inches
Weight: 3.49 oz
Battery: 740 mAH Li-Ion
SAR: Ear-1.14 , Body-1.56
Usage Time: Up to 180 Minutes OR
Standby Time: Up to 200 Hours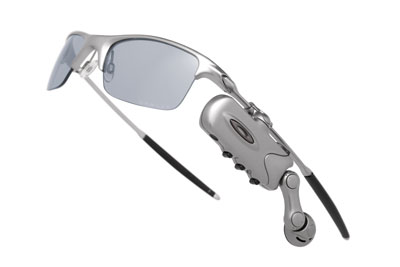 Motorola RAZRWIRE™ Bluetooth Eyewear Combines Convenience with the Ultimate in Cool
RAZRWIRE
For Verizon Wireless customers who want to take advantage of the RAZR V3c's cutting edge features, the companies also announced today the availability of the RAZRWIRE — the world's first eyewear to combine patented Oakley optics with Bluetooth wireless technology. With an embedded Motorola Bluetooth wireless headset into Oakley sunglasses, RAZRWIRE Bluetooth Eyewear lets active and style-conscious consumers experience hands-free, cable-free communications. RAZRWIRE will initially be available in three frame and lens color combinations, including Platinum/Gold Iridium, Pewter/Black Iridium and Mercury/Gray. Customers can purchase the RAZRWIRE online now and will be able to purchase it in select Verizon Wireless Communications Stores starting on December 12.
Availability
The Motorola RAZR V3c retails for $199.99 after $100 rebate and a two-year customer agreement. Verizon Wireless customers can purchase the Motorola RAZR V3c online today at verizonwireless.com and in select Verizon Wireless Communications Stores nationwide starting on December 12. The RAZRWIRE retails for $295.00 and includes the sunglasses, Bluetooth module and a wall charging unit.
About Verizon Wireless
Verizon Wireless owns and operates the nation's most reliable wireless network, serving 49.3 million voice and data customers. Headquartered in Bedminster, NJ, Verizon Wireless is a joint venture of Verizon Communications (NYSE: VZ) and Vodafone (NYSE and LSE: VOD). Find more information on the Web at verizonwireless.com.
About Motorola
Motorola pioneered mobile technology in the 1930s with car radios and public safety radio networks, the walkie-talkie in the 1940's and space-to earth communication for the Apollo program in the 1960s. In the 1980s, Motorola revolutionized personalized communications with the first commercial handheld cellular phone. Today, its new smart devices, networks, and software are making communications not just mobile, but seamless. Continuously redefining "the device formerly known as the cell phone," Motorola also leads the industry in design, with award-winning products like the iconic RAZR. Motorola had sales of U.S. $31.3 billion in 2004. For more information, please visit www.motorola.com.