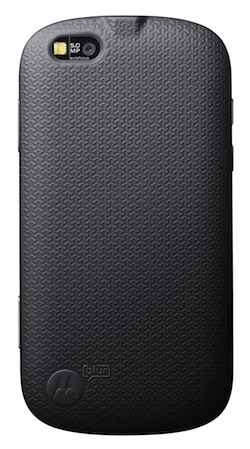 Android phone streams together messaging and contacts so you can tap into your social scene using a full virtual QWERTY and front navigation touch pad
Today Motorola, Inc. announced QUENCH with MOTOBLUR, Motorola's Android-powered content delivery service, which organizes messages and synchronizes contacts to keep conversations in constant motion. QUENCH's sleek touch-screen design, combined with great navigational features such as pinch and zoom and a touch pad, as well as the inclusion of Adobe Flash Lite, make browsing the web on its 3.1″ high-resolution display a breeze. Motorola QUENCH™ will be available beginning in the first quarter of 2010. In the U.S., it will be called CLIQ XT™ and be available next month exclusively through T-Mobile USA. This is the eighth Android-powered device launched by Motorola around the globe.
"As we continue to expand Motorola's portfolio of Android-powered devices, we remain committed to delivering more of what people want from their handheld devices in easier ways," said Sanjay Jha, co-CEO of Motorola and CEO of Motorola Mobile Devices and Home business. "QUENCH with MOTOBLUR showcases Motorola's design heritage by offering a compelling differentiation from the traditional Android experience, giving people an easier way to have more messaging, more Web and more music."
MOTOBLUR is Motorola's Android-powered content delivery service created to make phones more personal and socially smart. It is the first solution to sync contacts, posts, messages, photos and much more — from sources such as Facebook, MySpace, Twitter, Gmail™, work and personal e-mail and Last.FM — and automatically deliver them to the home screen. Content is fed into easy-to-manage streams allowing you to spend less time managing your life and more time living it.
Messaging is made easier on QUENCH with the combination of MOTOBLUR features, a palm and pocket-friendly design and Swype, a new feature that makes responding to messages and entering text easier than ever. MOTOBLUR keeps happenings, messages, news feeds and more readily available for browsing and responding on the customizable home screen. Contact information, such as email addresses, profile pictures and phone numbers, is automatically synced whenever the details change online, so there's no need to manually update.
QUENCH delivers a complete Web experience on a full touch-screen device with pinch and zoom capabilities. Navigation is enhanced with a front-facing, centrally-located touch pad, so it's easier and more intuitive to flick through the Web. Adobe Flash Lite enables rich media content such as banners and videos to be displayed and fully enjoyed on the 3.1″ high-resolution display.
The innovative new connected media player on QUENCH is not only connected to the Internet but your social networks as well. QUENCH connects you to your music with a new style of media player that lets you buy and instantly download music from an MP3 store while integrating third-party apps such as TuneWiki, SoundHound, GoTV, and YouTube™. The music search feature makes finding your songs easy while synchronized lyrics in any language you choose make learning songs easier than before. Share your favorite tracks, discover new ones2, find lyrics, watch videos, and stream FM radio.
QUENCH enables clear calls using dual microphones and noise cancellation technology, while crystal clear pictures are enabled by a 5.0 megapixel camera with autofocus and LED flash. Finding information online or within the device is made even easier with voice-activated search (English only). Simply say what you are looking for and QUENCH will find contacts, serve up Google™ Web search results based on location, or launch applications. Android Market™ provides fast access to more than 20,000 apps and widgets for limitless customizations and enhancements to QUENCH. Extras such as 3G and Wi-Fi access, aGPS and stereo Bluetooth make QUENCH a solid Android-powered device.
Finally, MOTOBLUR provides end-users with convenience and peace of mind, as lost devices can be located from a secure personal information portal and even remotely erased if necessary. Then, one user name and password brings back your contacts, messages and connectivity to your previously configured networks and email providers. Plus, with over-the-air updates, Motorola has the ability to improve current features and add new ones to QUENCH, ensuring the overall experience is continually enhanced.
Availability
QUENCH with MOTOBLUR will be available in multiple regions around the globe beginning in Q1 2010. In the U.S., the device will be called CLIQ XT with MOTOBLUR and will be available exclusively through T-Mobile USA beginning next month.