Monster announced the CleanTouch Pen which allows iPad, PDA and smartphone users to keep their touchscreens free from dirt, smudges and even fingerprints — and help protect against potentially dangerous disease-causing microbes.
The Monster CleanTouch Pen offers convenient use; users simply move the nib of the pen across their screen, let the CleanTouch solution set for 5 to 10 seconds and wipe it off with the integrated Clean Cloth (held in the body of the pen itself) for a crystal clear, spot-free screen.
Notably, unlike ordinary glass and household cleaners, the CleanTouch Pen utilizes Monster's unique alcohol- and ammonia-free CleanTouch solution that won't harm delicate screen coatings, with a special anti-microbial formula that controls spread of germs and bacteria. With its ultra-compact form facto, the travel-ready CleanTouch Pen is TSA compliant, fitting easily into a bag, purse, or pocket for use anytime, anywhere.
Head Monster Noel Lee noted: "Many of us literally use our smartphones, iPads and PDAs all day long, and the touchscreens can quickly become covered with dirt, dust, and fingerprints that obscure the view. With our Monster CleanTouch Pen, consumers now have a quick and convenient way to safely clear away the mess without streaking, staining, or damaging their sensitive screen coatings. Best of all, it even helps keep fingerprints from building up again. It's easy to carry and easy to use, and especially handy when you're traveling in close quarters of a train, plane, automobile or bus — because it's a fully self-contained cleaning solution you can quickly and effectively clean your screen without fumbling with separate spray bottles and cloths."
Fingerprint Resistant, Travel-Sized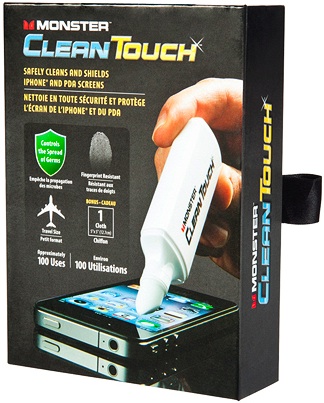 The Monster CleanTouch Pen leaves a microthin coating on your screen that resists scratches and fingerprint buildup. Polymers in the formula adhere to the screen and prevent fingerprints from attaching directly to the screen, so the screen is easier to clean and doesn't have to be cleaned as often. In addition to the breakthrough AEGIS Micro Shield Technology anti-microbial cloth, the CleanTouch Pen's solution is specially formulated to keep screens cleaner for longer periods of time.
The debut of Monster CleanTouch Pen is part of the company's ongoing to provide the solutions consumers need to keep all their screens — both large and small — crystal clear, with the most advanced screen cleaning technologies engineered specifically for ease of use and convenience. In addition to the new Monster CleanTouch Pen, the company offers the industry's most comprehensive lineup of advanced ScreenClean products for multiple applications, including the CleanTouch Kit ($24.95), and the all-in-one Monster ScreenClean Dual-Pack ($34.95) "for home and on-the-go."
Price and Availability
The Monster CleanTouch Pen is now available at Amazon.com for $24.95.