New webcams meet consumer demand for sleek designs and better ways to share important life moments with Windows Live Virtual Photo Album
Microsoft Corp. is providing an exciting and easy new way to share photos and memories with two new webcams — a desktop unit, the LifeCam VX-7000, and a notebook unit, the LifeCam NX-3000 — and their connection to Photo Swap, a feature that allows consumers to share digital photos with friends and family and see their reactions in real time. The LifeCams' sleek new design blends into the PC monitor, allowing consumers to concentrate on the important things in life: connecting and sharing with friends and family.
Sharing Is a Snap With Windows Live Messenger
The Microsoft LifeCam line continues to work closely with Windows Live™ Messenger, the world's largest instant messaging network, to make video calls2 easy and now more meaningful than ever with quick access to Photo Swap, which lets users share digital photos live during a video conversation. One click of the Photo Swap icon opens a window next to the video call so users can pick available photos on their PC and flip through them with their friend. Photo Swap is easy to use and works like a virtual photo album, allowing consumers to see and hear the reactions of their friends and family in real time as they view the pictures together.
The Photo Swap feature is now available in the entire line of LifeCams and complements the existing LifeCam features for Windows Live users that include the following:
Windows Live Call Button. Located on the top of each LifeCam, the Windows Live Call Button makes placing a video call a breeze by eliminating multiple steps. Just one touch brings up the Contact Picker, a tool that shows only current online contacts. Users simply select their contact's name and they are on their way to making a video call — it's like speed dialing for webcams.
LifeCam Dashboard. Built right into the Windows Live Messenger window for easy access during video calling, the LifeCam Dashboard provides simple access to the controls people need most, including pan, tilt and zoom. Now users' attention stays where it should be — on their video conversation.
One-Touch Blogging. Users can post High Definition LifeCam pictures directly to their Windows Live Spaces blog with one click from within the LifeCam window.
"Microsoft Hardware and Windows Live continue to bring the best of hardware, software and services together to create a higher-quality video calling experience for our customers, making it easier to share than ever before," said David Fortin, senior director for Consumer Product Management at Windows Live. "The Photo Swap feature is a perfect illustration of what a video call should be about: keeping in contact with loved ones, sharing memories and having fun."
LifeCam VX-7000
In addition to advanced sharing capabilities, the LifeCam VX-7000 includes a 2.0 megapixel sensor to deliver High Definition video (2.0 MP) and still photography (7.6 MP interpolated) and brings a sleek new design to desktop webcams. The VX-7000's additional features and benefits include the following:
The slim, glossy, sleek design allows the LifeCam to blend seamlessly into the PC monitor.
The built-in unidirectional microphone with acoustic noise cancellation delivers crystal-clear audio.
A 71-degree, wide-angle lens fits more people on the screen at once.
Automatic adjustments for low-light conditions provide superior color quality.
The glass element lens delivers clear video quality.
An illuminated LED indicates the camera is in use.
"At Microsoft, our products are always two steps ahead when it comes to style and design — and our LifeCam line is no exception," said Michael Cowan, product marketing manager for Microsoft Hardware. "With the LifeCam VX-7000 and LifeCam NX-3000 we concentrated on adding high-end finishes and sleek form factors so the webcams would complement our users' computer setup, not detract from it. When you combine the design element with our new sharing capabilities in Windows Live Messenger, these LifeCams are taking the webcam experience to a new level."
LifeCam NX-3000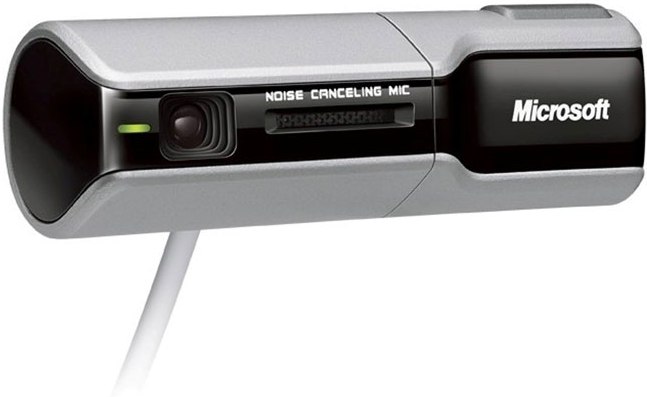 Microsoft is also launching a sleek new notebook webcam, the LifeCam NX-3000. This new LifeCam features brilliant video (640×480 pixels), High Definition still photography (1.3 MP) and a built-in unidirectional microphone with acoustic noise cancellation. The LifeCam NX-3000 also offers these features:
Automatic audio control provides enhanced sound clarity.
The swivel lens allows users to adjust the camera angle for ultimate notebook mobility.
An illuminated LED indicates the camera is in use.
Video Effects enable users to personalize video calls with fun visual elements such as snow, stars and flowers.
The protective carrying case enables easy and convenient portability while on the go.
Pricing and Availability
Both LifeCams will be widely available in September 2007 for the following estimated retail prices:
The LifeCam VX-7000 and LifeCam NX-3000 are now available for special pre-sale on Amazon.com and will ship in September when the products are widely released.