New Floorstanding Loudspeaker Incorporates Advanced Technologies to Deliver a Compelling Musical and Home Theater Experience
Available: May 2008
US Retail Price: $8495/pair
MartinLogan, the Loudspeaker Technology Company, is proud to announce the introduction of the new Spire™ loudspeaker. The result of years of research, the new Spire™ powered hybrid electrostatic loudspeaker features advanced technological developments, delivering industry leading standards for efficiency, dynamics and precision in a floor standing loudspeaker.
Shockingly powerful and accurate bass results from Spire's PoweredForce 10-inch aluminum cone woofer and 200-watt high-resolution amplifier. The result? Usable bass extension down to 29Hz, immense bass dynamics and precision beyond the reach of traditional passive box systems–all from an enclosure smaller than a case of wine. Additionally, the simple turn of a 35Hz equalization knob allows precision low-end calibration to optimize speaker/room integration.
Revealing every subtle nuance of recorded sound with unflinching accuracy, Spire's ultra rigid AirFrame and curvilinear XStat electrostatic transducer reveal a magical performance with precision, dynamics and three-dimensional sound staging. Housed within a radical, ultra-rigid, extruded aluminum and composite AirFrame™, Spire's CLS™ (Curvilinear Line Source) XStat™ transducer builds upon the legacy of MartinLogan's electrostatic heritage with advanced Vacuum Bonding and MicroPerf stat panels providing the highest levels of efficiency and precision.
Featuring an advanced proprietary Vojtko™ crossover topology derived from the flagship Summit™ loudspeaker, MartinLogan electronic specialists hand-build each Spire crossover utilizing only the finest of components and construction techniques to assure the cleanest, most precise signal path possible. The resulting precision crossover flawlessly preserves even the smallest subtleties in sound while effortlessly handling the broadest range of dynamics contained within even the most demanding sonic source.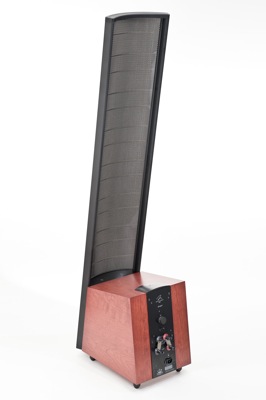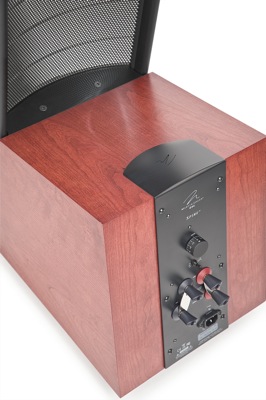 Spire is available in a variety of cabinet finishes including Black Ash, Dark Cherry, Natural Cherry, Maple, Birds Eye Maple, Wenge, and Rotary Cut Bubinga. Additional finishes are offered through the MartinLogan Custom Shop (http://configurator.martinlogan.com).
MartinLogan, one of the most respected names in audio, is located in Lawrence, Kansas, where 80 employees handcraft the company's ultimate loudspeaker products. The speaker systems, incorporating MartinLogan's patented CLS™ (Curvilinear Line Source) high-resolution electrostatic technology and ATF™ (Advanced Thin Film) transducers, range in price from $399 to over $10,995 (US Retail). The subwoofer systems range in price from $599 to $2,995 (US Retail).