MartinLogan's Innovative New "Feature" Loudspeaker Uses Built In Amplifier to Reduce Wire Clutter
Available: November 2008
US Retail Price: $1,695/each
MartinLogan is proud to announce the new "Feature" loudspeaker, a fully powered, high-resolution, electrostatic loudspeaker designed for use either on- or off-wall in center, front, or surround channel applications.
Internally powered with a high-resolution 150 watt switching amplifier the Feature allows an unprecedented level of system connection flexibility. A standard RCA line-level input minimizes wire clutter by connecting directly to on-wall televisions (and other devices) without the need for external amplifiers.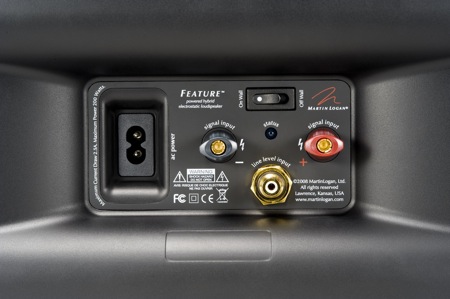 Additionally, standard speaker-level connections allow the fully powered Feature to integrate with audio systems where RCA connection is not possible. Consumers choosing to use the Feature with a traditional receiver will experience an enhanced sonic experience without the need to upgrade to a more expensive model.
A highly-sophisticated Vojtko™ crossover seamlessly blends the Feature's state-of-the-art electrostatic transducer, neodymium soft-dome tweeter, dual low-distortion 5.25-inch woofers, and 150 watt amplifier to provide crisp, clear, MartinLogan sound across the entire frequency range.
For those seeking an ultimate performance, clutter-free home theater experience Feature perfectly matches MartinLogan's fully powered Purity floor standing electrostatic loudspeaker and full line of low-distortion subwoofers.
"MartinLogan's new fully powered loudspeakers really simplify home theater while still providing award-winning MartinLogan sound. They are a perfect match for the new generation of televisions and DVD players equipped with built-in surround sound decoding and volume control," said Devin Zell, MartinLogan Assistant Marketing Manager.
About MartinLogan
MartinLogan, one of the most respected names in audio, is located in Lawrence, Kansas, where 80 employees handcraft the company's ultimate loudspeaker products. The speaker systems, incorporating MartinLogan's patented CLS™ (Curvilinear Line Source) high-resolution electrostatic technology and ATF™ (Advanced Thin Film) transducers, range in price from $299 to $30,000 (US Retail). The subwoofer systems range in price from $649 to $3,495 (US Retail).