Reinventing the Notebook Experience: Logitech's Family of Notebook Stands Improve Comfort
Reinventing how people use a notebook PC around the home or the office, Logitech (NASDAQ:LOGI) (SWX:LOGN) has expanded its line of notebook stands that let people enjoy the convenience of a notebook PC without sacrificing comfort. The family of Logitech Alto™ notebook stands now includes the new Logitech Alto™ Connect and Logitech Alto™ Express, along with the original Logitech Alto™ notebook stand, introduced last year.
When placed on a table or desk, the Alto notebook stands improve comfort by raising the display to the optimal viewing height and distance, and by creating space for a comfortable, full-size keyboard and mouse. And because the notebook is elevated, the Alto stands minimize contact with the uncomfortable heat generated by a notebook PC and improve cooling fan circulation.
Compact notebook PCs present many advantages over traditional desktop PCs but aren't always comfortable to use. In addition to having limited, cramped typing keys, because the display and keyboard are attached, notebook PCs often force people to sit in awkward positions, hunching over to type or squinting to read their screens. Despite these limitations, according to a recent study conducted for Logitech by research firm GfK Custom Research, 45 percent of laptop owners spend at least 16 hours per week using their laptops, and 70 percent spend the majority of their computing time using their laptops at home.
"People are buying laptops at a phenomenal rate due to the many conveniences they offer, but most people don't think about the physical challenges presented by the compact design," said Denis Pavillard, Logitech vice president of product marketing for keyboards and desktops. "With more than twenty-five years experience designing computer peripherals that are used for multiple hours at a time, we understand the importance of comfort. And for the Alto family, we've spent considerable time thinking specifically about laptop ergonomics. We're confident these Alto notebook stands will allow people to be more comfortable and more productive."
Comfort Without Compromising Convenience
The Logitech Alto notebooks stands raise a laptop to eye level and place it at the optimal distance between the user's eyes and the display. As a result, because people sit up to view their displays at the optimal viewing height and distance, the notebook stand encourages a comfortable posture. Additionally, people using the Alto notebook stands can enjoy the benefits of a full-size keyboard and mouse, such as the Logitech Cordless Desktop MX™ 3200 Laser, or a notebook mouse, such as the award-winning Logitech VX Revolution™ Cordless Laser Mouse for Notebooks. Compared to smaller, built-in laptop keyboards, a full-size keyboard with a number pad allows people to type faster and more comfortably while keeping their hands away from the heat emitted by their laptops.
The Alto notebook stands are easy to set up – in fact, total setup time for all three models takes less than 30 seconds – making them the perfect complement for someone who frequently moves their laptop around the home or office. And they're just as easy to take down, making them ideal for people who like to store their laptops when not in use.
Unlike a docking station, the Logitech Alto notebook stands are not brand-specific and are compatible with virtually all laptops. The stands can be shared among family members, even if they own different laptops, and are cost-efficient because they don't require that people purchase a new solution every time they purchase a new laptop.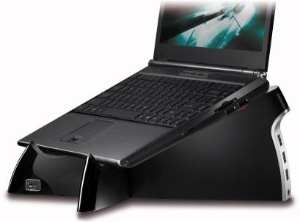 Logitech Alto Connect – Notebook Stand Plus Four-Port USB Hub
The new X-shaped Logitech Alto Connect notebook stand provides people with a notebook stand and a powered, four-port USB hub. For added convenience, one of the ports is located at the front of the stand for easy access when plugging in a device such as an MP3 player or thumb drive. In addition, to reduce cord chaos, the Alto Connect stand offers a cable-management system and a cavern for storing the USB cable when not in use. To set up the stand, people simply cross two leg-like parts across each other and rest the laptop on top of the X-shape design. Rubber bumpers help ensure that the laptop is secure. The Alto Connect is compatible with any notebook PC as well as MacBook and MacBook Pro computers.
Logitech Alto Express – Notebook Stand
For people looking for an elegant, affordable notebook stand, the new Logitech Alto Express notebook stand offers a stylish hard-plastic, translucent surface and a smooth, swoop shape. The lightweight, one-piece Alto Express stand requires minimal setup. People simply place their laptop on the stand, add a keyboard and mouse, and begin working. Plus, two stabilizing rubber-tipped feet at the front of the stand prevent the laptop from sliding while the rubber feet at the back of the stand incorporate easy-glide polycarbonate material to make it easy to move the stand around once the laptop is on the stand. The stand's arch-like design accommodates storage of a keyboard and mouse under the stand when not in use. The Alto Express is compatible with 15.4 to 17 inch notebook PCs and MacBook computers.
Logitech Alto – Notebook Stand with Integrated Keyboard and USB Hub
The top-of the-line Logitech Alto notebook stand is an all-in-one solution that offers people a notebook display riser, full-size keyboard with soft palm rest, multipurpose USB hub, and a cable management system. Unlike a laptop keyboard, the Alto keyboard provides a number pad, one-touch media and volume controls, and 12 hot keys that provide quick access to people's favorite applications, folders and Web sites.
The Alto notebook stand is easy to set up. It opens like a book, revealing a keyboard on one side and a pop-up stand, USB ports and a cable management system on the other. And it's equally simple to put away, collapsing into a compact size that can be easily stored or carried to another location. The convenient, three-port USB hub gives people instant connectivity to their mice, USB thumb drives, PC speakers and more.
Pricing and Availability
The Logitech Alto Connect notebook stand is expected to be available in the U.S. and Europe beginning in September with a suggested retail price of $79.99 U.S. The Logitech Alto Express ($29.99 U.S.) is expected to be available in the U.S. beginning in July and in Europe beginning in August. Available now in the U.S. and in Europe, the original Logitech Alto stand has a suggested retail price of $99.99 U.S.
About Logitech
Logitech is a world leader in personal peripherals, driving innovation in PC navigation, Internet communications, digital music, home-entertainment control, gaming and wireless devices. Founded in 1981, Logitech International is a Swiss public company traded on the SWX Swiss Exchange (LOGN) and on the Nasdaq Global Select Market (LOGI).
Logitech, the Logitech logo, and other Logitech marks are registered in the United States and other countries. All other trademarks are the property of their respective owners. For more information about Logitech and its products, visit the Company's Web site at http://www.logitech.com.