Loewe announced a wireless speaker that plays music transmitted from an iPhone, iPod, iPad or iTunes. No docking is required. The Loewe Air Speaker uses Apple's AirPlay technology to seamlessly connect your iOS device to the speaker.
The compact speaker includes two subwoofers, two tweeters and two mid-range speakers and boasts a total power of 80 watts. Additional Loewe Air Speakers can added for multi-room audio with total control from the iPhone. AirPlay data transmission occurs through the local network via LAN, WLAN or Powerline. The Air Speaker is ready to be "woken up" at any time — the practical WakeUp on LAN/WLAN function ensures that no time is wasted switching it on.
The Air Speaker also has an Aux-In port and a USB interface allowing direct connection of iPods and iPhones via cable. Other devices can be connected via a Line-In port.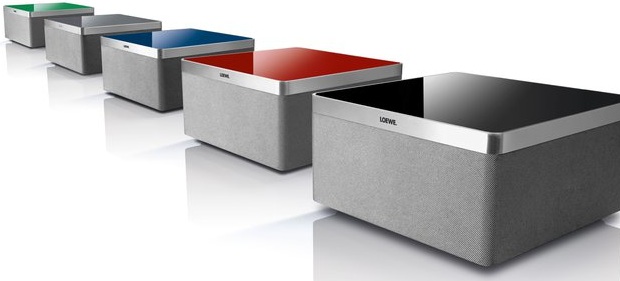 Price and Availability
The Loewe Air Speaker comes in Aluminium Black or Aluminium Silver and can be tailored with colorful top-mounted interchangeable insets. October 2011 availability is expected for £699.
See more about: Wireless Speakers, AirPlay, iPod Speaker Docks, iPad Speaker Docks