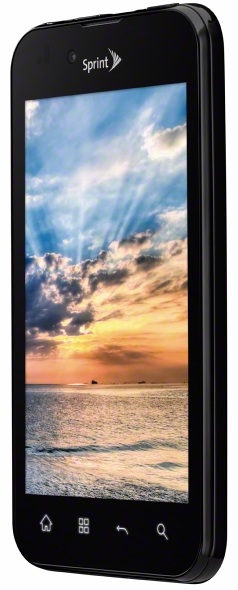 Sprint and LG Mobile announced the LG Marquee (model LS855) Android 2.3 powered, super slim smartphone featuring a 4-inch NOVA display which claims vivid visibility in direct sunlight.
LG Marquee provides Mobile Hotspot capability supporting up to five Wi-Fi enabled devices simultaneously. It also offers a 5-megapixel rear-facing camera for maximum versatility in creating and sharing media and a 2-megapixel front-facing camera making your face-to-face video chatting experience even more memorable. Equipped with a 1GHz processor and Adobe Flash technology.
Chic carrying cases will be offered for the LG Marquee with guidance from Stacy London of TLC's "What Not To Wear".
Key Features → specifications (pdf)
4-inch NOVA Display
Android 2.3 (Gingerbread)
Wi-Fi Hotspot Capability
Thin, Stylish Design
5-megapixel Rear-Facing and
2-megapixel Front-Facing Cameras
Adobe Flash Support
5 Customizable Home Screens with Sprint ID
Virtual QWERTY Keyboard with Swype
Price and Availability
LG Marquee will be available October 2, 2011 for $99.99. You can pre-order now www.sprint.com/marquee.
See more about: New Smartphones, LG Smartphones