LG Cookie Serves Up the Sweet Taste of Touch Technology
LG Electronics (LG), a global leader and technology innovator in mobile communications, announced today that its attractively-priced full touchscreen handset, LG Cookie (LG-KP500), recorded over two million unit sales worldwide in the five short months since its debut last October despite the global economic downturn.
LG Cookie was designed to allow more people to experience a taste of touch technology at an attractive price, but with advanced features usually found exclusively in premium full touchscreen handsets. More than 1.2 million gourmets have had a taste of LG Cookie in Europe, and 600,000 Cookies have been sold in Asia and the emerging markets, including Latin America. In Korea, LG Cookie is currently the most popular handset with 100,000 units in accumulated sales as of March this year and record one-day sales of 4,500 units.
"We wanted to allow more people to benefit from the advanced touch technology that we introduced in previous touchscreen handsets," said Dr. Skott Ahn, President and CEO of LG Electronics Mobile Communications Company. "Because of our extensive background in touchscreen handsets, we are now able to bring this innovative technology to consumers at an affordable price without compromising quality with the LG Cookie."
However, the price is not the only appeal of this Cookie. Its easily accessible multimedia features, available through widgets as well as shortcut icons, allow consumers to enjoy a fun mobile experience — such as motion sensor games — with a single touch of its 3.0-inch screen. And the LG Cookie not only tastes great, but it looks great, too. With its slim 11.9 mm body, the phone was originally released in four delicious colors including Black, Vandyke Brown, Anodizing Silver, and Elegant Gold. The line-up has now been expanded to ten different colors. LG plans to bake more Cookies with even more color options to match a variety of personal tastes.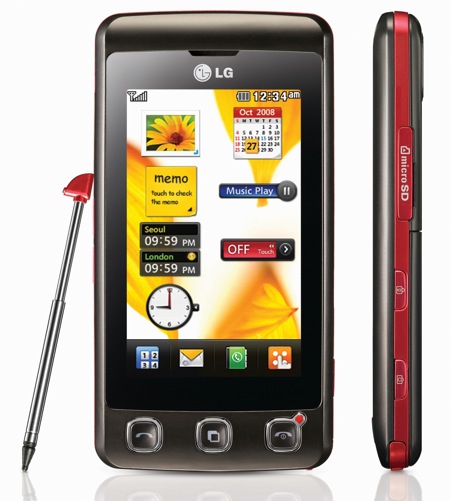 "LG Cookie's strong sales and the subsequent launch of similar handsets from other manufacturers prove that LG continues to be an innovative leader in touch technology," Dr. Ahn added.
The company plans to expand Cookie's availability from 40 to 60 countries as part of its push to hit 10 million in sales worldwide.