Lenovo announced the ThinkCentre M92p "tiny" desktop PC, the first Intel vPro Technology enabled one-litre desktop measuring just the width of a golf ball (34.5 mm). The ThinkCentre M92p, along with the same sized M72e for enterprise-class productivity, both offer an innovative tiny form factor allowing it to fit in practically any space while maintaining first-class productivity with up to 3rd Generation Intel Core vPro processors.
The ThinkCentre tiny form factor is equipped with the latest desktop power manager for optimal energy efficiency and enhanced reliability and manageability features. It's the perfect desktop for users who need superior computing power in a small package.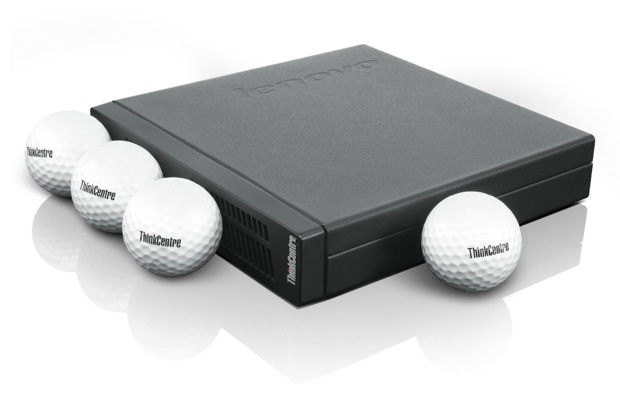 The ThinkCentre tiny form factor can conveniently be positioned on a desktop, hung on a wall or mounted under a desk. With up to a 3rd Generation Intel Core i5 processor, the tiny form factor can fit in today's shrinking office space without sacrificing power. The M92p tiny also supports up to four monitors in Mosaic Mode or three independent monitors without the need for a graphics card. Lenovo is also expanding its accessories portfolio to include options specifically created for the tiny form factor.
The M92p and M72e tiny form factor desktops include options for solid state or traditional hard drives, integrated graphics and Wi-Fi. With Lenovo's Enhanced Experience 3 for Windows 7 (EE3), the tiny form factor enjoys a fast boot up — 30 percent faster than non-optimized PCs. Users can be confident their information is protected with enhanced data protection with a TPM Security Chip and RAID 0, 1. With PC cloud manager for Intel vPro Technology, IT managers can manage their PC fleet remotely on web-based system without the need for a management console.
The M92p and M72e tiny feature certifications from EPEAT Gold, UL Environment Gold, Energy Star, GREENGUARD and Cisco EnergyWise.
Pricing and Availability
Lenovo ThinkCentre M72e → $499 (available July 2012)
Lenovo ThinkCentre M92p → $799 (available May 2012)