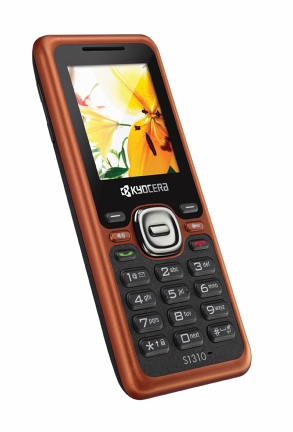 The Kyocera Domino S1310 is simple, advanced elegance. The handset features a streamlined bar-style design with large display, keypad and texting fonts for easy visibility, plus robust sound quality.
The simple design includes all the essential features, with Bluetooth 2.0 wireless technology, WAP 2.0 browser and BREW™ 3.1.5 for downloading games, screensavers, polyphonic ringtones and wallpapers. It features SMS and instant messaging, airplane mode, a contact directory of 250 names with up to six numbers each, alarm, calculator, scheduler, stopwatch, timer and tip calculator as well as voice memos, speakerphone with dedicated function key and vibrate alert. Domino also supports multiple languages and TTY/TDD for the hearing impaired.
The handset measures 4.29 x 1.73 x 0.54 inches and weighs in at just 2.5 ounces. It boasts a talk time of up to 200 minutes and a standby time of up to 200 hours. Domino will be available in late 2009.