Heritage Series to be re-launched in honor of the company's 60th Anniversary in 2006
On display at the 2006 International CES in booth #21419
INDIANAPOLIS – Klipsch Audio Technologies, one of the first U.S. loudspeaker companies, is re-launching its legendary Heritage Series Klipschorn, La Scala and Heresy loudspeakers that were originally developed by audio pioneer Paul W. Klipsch during the early days of Hi-Fi. While the latest Klipschorn features minor cosmetic and functional revisions, the La Scala II adopts a new finished appearance and the Heresy III offers increased performance through various content upgrades.
Patented in 1945, the Klipschorn is still considered by many to be the finest loudspeaker ever made and is the only speaker in the world that has been in continuous production for 60 years. While maintaining its classic look and performance, the Klipschorn has a restructured high-frequency cabinet that eliminates the inset collar, or spacer, between upper and lower cabinets for a cleaner aesthetic appearance. A horizontal wall seal has also been added to improve the low frequency horn's connection to the wall.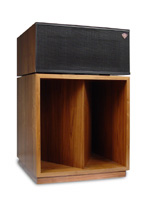 When the La Scala first launched in 1963, it was not designed for home use. Paul Klipsch made it for Arkansas gubernatorial candidate Winthrop Rockefeller to use as a public address speaker. However, because some considered it a "portable" and more affordable version of the revolutionary Klipschorn, the La Scala found success beyond the campaign. Despite its raw, unfinished look, the fully horn-loaded, three-way La Scala sounded so good that people still wanted to put it in their living rooms.
Virtually unchanged since those campaign days, Klipsch decided to cosmetically improve the La Scala by making it available in a variety of wood veneer finishes, including cherry, walnut and black ash. The La Scala II also has a grille to cover the mid and high frequency horns. The bass horn cabinet walls are now constructed of 1-inch thick MDF rather than ¾-inch plywood to offer more support, resulting in decreased resonance and cleaner bass response.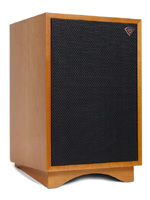 First introduced in 1957, the Heresy, a three-way design, started out as a compact center channel speaker to accompany the Klipschorn in three-speaker stereo arrays. In 1985, Klipsch made some changes and improvements to this model and re-released it as the Heresy II. Today, Klipsch has given the Heresy a bi-wire network, titanium diaphragm tweeter and larger magnet assembly. The midrange has moved from a phenolic to a titanium diaphragm. All of these changes result in improved tonal balance and increased output. In fact, the Heresy III is two decibels louder (96 to 98dB), improving on its already high sensitivity. The Heresy III ships with a slant riser that can be removed for cabinet installations. Because of its relatively "compact" size, this model offers the greatest degree of placement flexibility in the Heritage Series line.
"The Klipschorn, La Scala and Heresy are among the most revered and highly acclaimed loudspeakers in the history of high fidelity audio," said Paul Jacobs, president of Klipsch Audio Technologies. "These three classic speakers are a big part of what has made our company the success story it is today."
The new Heritage Series speakers are available in cherry, walnut and black ash wood veneer finishes and can be ordered through a Klipsch specialty A/V retailer at U.S. MSRPs of $3,750 for each Klipschorn, $2,750 for each La Scala II and $750 for each Heresy III. Orders for the soon-to-be discontinued Belle Klipsch can also be placed through a Klipsch specialty A/V retailer while supplies last. The Belle Klipsch carries a U.S. MSRP of $3,000 each. To locate a Klipsch retailer near you, visit http://www.klipsch.com and click on "Find a Dealer."
About Klipsch Audio Technologies
Established in 1946, Klipsch Audio Technologies is a wholly owned subsidiary of Klipsch Group, Inc., and is a leading global manufacturer of high-performance loudspeakers and other entertainment products for consumer and professional markets. Klipsch is committed to developing products that create the most engaging, emotional and dynamic entertainment experiences. Acquired by Fred S. Klipsch and Judy L. Klipsch in 1989, Klipsch bases its worldwide headquarters and Audio Engineering and Technology Center in Indianapolis, Ind., manufacturing facilities and distribution center in Hope, Ark., and distribution centers in Buena Park, Calif.; Toronto, Canada; Heerenberg, Netherlands and Shen Zhen, China. For more information, please visit http://www.klipsch.com.
Klipschorn
http://www.klipsch.com/newscenter/photocaption.aspx?id=1168
La Scala II
http://www.klipsch.com/newscenter/photocaption.aspx?id=1166
Heresy III
http://www.klipsch.com/newscenter/photocaption.aspx?id=1169