KEF announced the LS50 Mini Monitor speaker offering studio quality sound in the home. Developed in commemoration of the 50th anniversary of the KEF LS3/5, the company built a cost-no-object speaker for smaller spaces.
The LS50 uses KEF's latest driver technology in the spirit of the original design and incorporates numerous patent pending technological breakthroughs in cabinet construction, baffle shape and port design — all made possible by KEF's leadership in modern research techniques such as Finite Element Analysis. The cabinet features constrained layer damping to significantly reduce resonances in comparison to regular damping pads, while the baffle shape has been optimized for smooth on- and off-axis dispersion as well as incorporating a ribbed rear surface to reduce cavity resonance at the rear of the driver. Even the port has been optimized using computational fluid dynamics to offer lower turbulence at high levels. It's all these small details, combined with the dedicated Uni-Q driver featuring damped Mg/Al alloy metal LF/MF cone and rear vented HF unit, that provide the ultimate in clarity, definition and imaging from a small enclosure.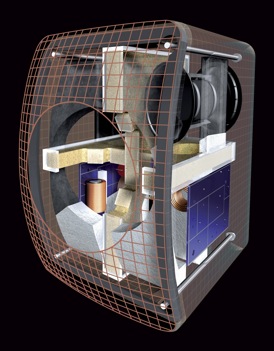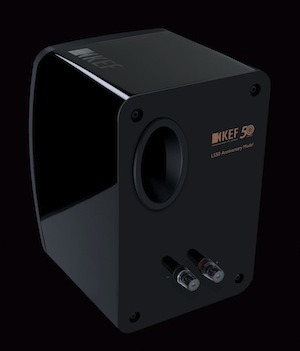 KEF claims the LS50 monitor delivers a rich, multi-dimensional 'soundstage experience' that is rare in a loudspeaker with such a compact design. Patent-pending acoustic designs, together with state-of-the-art technologies from KEF's latest flagship Blade loudspeaker, provide the ultimate studio experience — even in the smallest of spaces. At the LS50's heart beats the highly acclaimed KEF Uni-Q driver array, capable of mastering an exceptional range of dynamic highs and lows over a large listening area.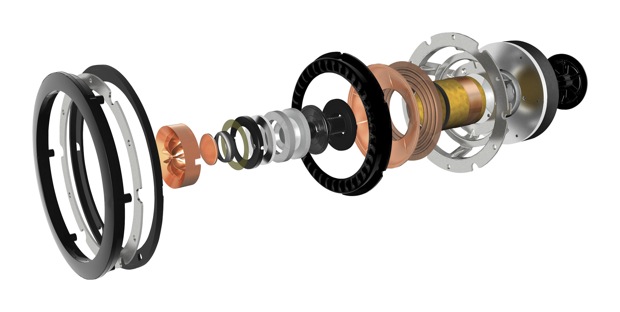 In the early 1960s the BBC selected KEF drive units and crossover for the original LS3/5a because of KEF's pioneering approach to new technology. The LS3/5a was an 'engineers' loudspeaker — so is the LS50. The R&D team were given a free hand to build the best small enclosure, irrespective of the usual industrial design constraints. KEF believes the result provides a remarkably accurate and transparent sound.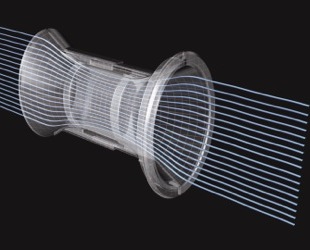 Conventional Speaker Port (left)    KEF LS50 Speaker Port (right)
"The LS50 is the ultimate mini monitor and allows listeners to experience sounds they've never enjoyed while listening to a rich, multi-dimensional soundstage previously not attainable from such a compact design," said Alec Chanin, president of KEF America.
Price and Availability
The KEF LS50 comes in a high gloss piano black cabinet with a rose gold Uni-Q driver at $1,499.99/pair at www.kefdirect.com.
Specifications
Model
LS50
Design
Two-way bass reflex
Drive units
Uni-Q driver array: HF: 25mm (1in.) vented aluminium dome
MF: 130mm (5.25in.) magnesium/aluminium alloy
Frequency range (-6dB)
47Hz – 45kHz
Frequency response (±3dB)
79Hz – 28kHz
Crossover frequency
2.2kHz
Amplifier requirements
25 – 100 W
Sensitivity (2.83V/1m)
85dB
Harmonic distortion
2nd & 3rd harmonics (90dB, 1m)
<0.4% 175Hz-20kHz
Maximum output
106dB
Nominal impedance
8Ω (min. 3.2Ω)
Weight
7.2kg (15.8lbs.)
Dimension (H x W x D)
(with grille terminal)
302 x 200 x 278 mm
(11.9 x 7.9 x 10.9 in.)