JVC KW-XR810
Car-Matching Double-DIN CD Receivers
With an expanded lineup of double-DIN CD receivers in stylish design, JVC is introducing the KW-XR810 Bluetooth Wireless Technology CD receiver with dual USB ports allowing two iPod/iPhone™ connections. The Bluetooth function is compatible with iPhone™ and supports the Phone Book Access Profile (PBAP). Other features include Separated Variable-Color and user-friendly search for phone book and audio files. The Bluetooth ready single-USB KW-XR610 model is also available with the same simple and sleek looks.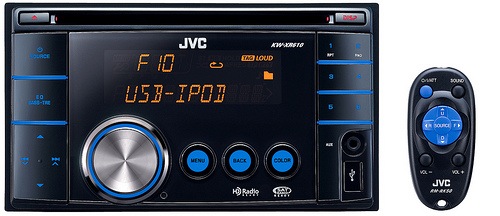 JVC KW-XR610
Separated Variable-Color
This advanced version of Variable-Color Illumination, available for both the KW-XR810 and KW-XR610, lets you select two separate colors for the keys and display from over 30,000 x 30,000 color combinations. Enjoy ease-of-use in a stylish look to go with your car's illumination.
Dual USB Port
The KW-XR810's dual USB ports provide multiple options to suit your style. The included USB Bluetooth adapter can be connected to either front or rear, depending on your usage frequency. For audio sources, connect your iPod/iPhone™ or other USB devices.
USB Audio for iPod/iPhone™
You can connect two iPod/iPhone™ players to the dual USB ports on the KW-XR810, or one to the KW-XR610, and enjoy music in clear, digital sound with full speed transfer. The KW-XR810 also lets you listen to the sound of iPod/iPhone™ applications, such as games, web radio, or YouTube.
Bluetooth Wireless Technology
The included wired microphone offers flexible settings for clear communication. The Phone Book Access Profile (PBAP) lets you automatically access your phone book without transfer. You can also manually transfer up to 400 numbers from compatible cell phones. Changing from hands-free to a private conversation can be done by a push of a key. You can also easily switch Bluetooth connection between 2 phones, such as for business/private use. Hands-free calls and audio streaming are also available for the KW-XR610 with the KS-BTA200 optional adapter. Bluetooth compatibility check is available at the store.
The new A to Z search for phone book and audio files displays characters when you press the up/down key, offering easy access. The accelerated search function will skip 1, 10, 100, then 1,000 items when you turn the volume dial quickly while displaying a list.
On both the KW-XR810 and KW-XR610, you can enjoy a multitude of programs in premium digital sound on HD Radio and SAT Radio with optional tuners.
The KW-XR810 will be available in March with an MSRP of $299.95.
The KW-XR610 will be available in March with an MSRP of $199.95.
KW-XR810 Double-DIN Bluetooth Wireless Technology Dual USB/CD Receiver with Front AUX
MOS-FET 50W x 4 (20W RMS x 4)
TI/Burr-Brown 24-bit DAC
3-Band Parametric iEQ
Bluetooth Wireless Technology (USB Bluetooth adapter included)
(Phone Book Access Profile, Phone Book Transfer, Hands-Free Call, Audio Streaming, Switching 2 Cell Phones, Compatibility Check Mode)
Front/Rear Dual USB Ports (WAV/MP3/WMA/iPod & iPhone™ Audio)
USB Audio for iPod/iPhone™ etc.
2-Way Control for iPod/iPhone™ (Headunit/iPod or iPhone™)
2 Connections for iPod/iPhone™
External Mode for iPod/iPhone™
MP3/WMA/WAV Compatible with ID3/WMA Tag (CD/USB)
HD Radio Ready
SAT Radio Ready
HS-IVi Tuner
Loudness Control in 3 Patterns
2.5V Line and Subwoofer Output Level
3 Pre-Output Terminals (Front + Rear + Subwoofer)
Subwoofer Control
Front AUX-IN
Full Dot LCD
Separated Variable-Color
Steering Wheel Remote Ready
Specifications

CD Player Section
Frequency Response
5 – 20,000Hz
Dynamic Range
96dB (fs=48kHz)
Signal-to-Noise Ratio
102dB (fs=48kHz)
Channel Separation
More than 85dB
Wow & Flutter
Less than measurable limit
Tuner Section
No. of Presets
18 FM + 6 AM
FM Frequency Range
87.5 – 107.9MHz
FM Usable Sensibility
9.3dBf (0.8µV/75 ohms)
FM 50dB Quieting Sensitivity
16.3dBf (1.8µV/75 ohms)
FM Stereo Separation
40dB
AM Frequency Range
530 – 1,710kHz
AM Sensitivity
20µV
AM Selectivity
40dB
Amplifier Section
Maximum Power Output
50 watts x 4
Continuous Power Output (RMS)
20 watts x 4 ch at 4 ohms at no more than 1% total harmonic distortion
Load Impedance
4 ohms (4 – 8 ohms allowable)
Line Output Level
2.5V
Line Output Impedance
1kohms
Dimensions (W x H x D)
Installation Size
7-3/16″ x 4-3/8″ x 6-5/16″
Panel Size
7-7/16″ x 6-5/8″ x 15/16″