JVC HA-M750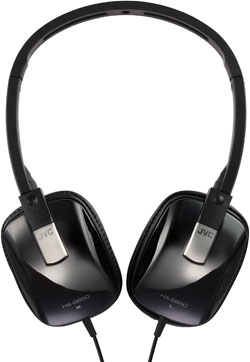 JVC HA-M650

JVC HA-M650
New Black Series Foldable Headphones Combine Performance and Style
JVC announced a new series of portable headphones for those who want to upgrade to top quality sound combined with a sleek, simple, modern design. The new JVC Black series includes two models, the HA-M750 and HA-S650, both designed to complement the latest generation of portable audio devices.
Both Black series headphones are foldable over-the-head models finished in glossy and flat black. Through the use of large driver units with carbon compound diaphragms, these headphones achieve superior bass reproduction, while the rigid carbon housing ensures optimal sound clarity because of its anti-resonance properties. The ear pads are made of memory foam to provide excellent sound isolation and extra comfort, while a fully adjustable stainless steel headband ensures a secure fit.
The HA-M750 is a full-size headphone with a 1.57-inch (40mm) driver unit for deep bass reproduction. It offers "DJ-style" one-ear monitoring with an innovative twistable housing, and a foldable design for easy packing. It comes with a 3.94-foot (1.2 meter) pure copper cord as well as a 6.56-foot (two meter) extension cord. So that it's ready for any application, the HA-M750 comes with a slim, gold-plated iPhone-compatible plug and a 1/4-inch plug adapter. The JVC HA-S650 is a flat-folding model so it's easy to pack, and light weight so it's comfortable during extended use. The slim design does not compromise on sound quality, with a 1.42-inch (36mm) driver unit providing deep bass and the 3.94-foot (1.2 meter) pure copper cord minimizing friction noise. It's outfitted with a slim, gold-plated iPhone-compatible plug.
The JVC Black series headphones, the HA-M750 and HA-S650, will be available in August for $79.95 and $69.95, respectively.
About JVC U.S.A.
JVC U.S.A., headquartered in Wayne, New Jersey, is a division of JVC Americas Corp., a wholly-owned subsidiary of Victor Company of Japan Ltd. JVC distributes a complete line of video and audio equipment for the consumer and professional markets.