Alltel, T-Mobile and Verizon Wireless Rank Highest in Wireless Customer Care, in a Tie
Overall wireless customer care performance has improved considerably as customers report shorter hold times and improved rates of problem resolution on the first contact, compared with six months ago, according to the J.D. Power and Associates 2009 Wireless Customer Care Performance Study-Volume 2 released today.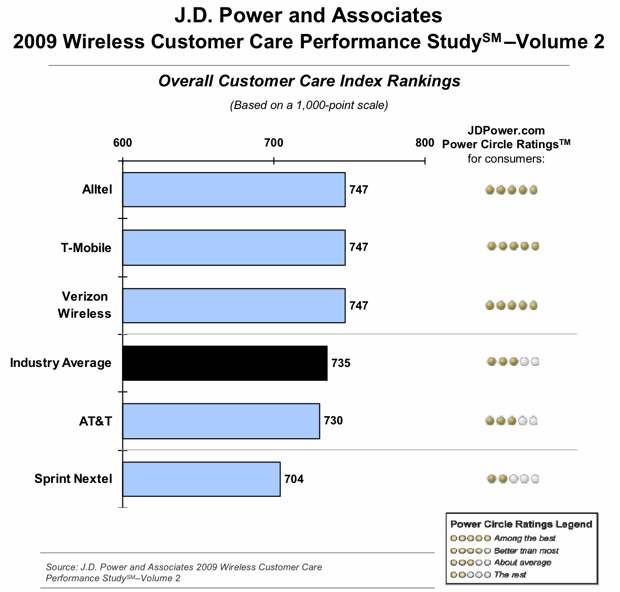 The study finds that overall customer care performance has improved considerably to 735 on a 1,000-point scale, up 12 points from the first wave of the study released in February. Satisfaction improves across all methods of contact, as a result of increased first-contact problem resolution and shorter wait times. More than three-fourths (76%) of calls to customer service are resolved on the first contact, compared with just 66 percent six months ago. In addition, hold times now average 5.55 minutes, compared with 6.58 minutes in February 2009.
"Satisfaction improves considerably when customers spend less time on hold and more time addressing their problems and inquiries with a customer service representative," said Kirk Parsons, senior director of wireless services at J.D. Power and Associates. "In order to sustain and improve these levels of satisfaction, carriers must ensure the usefulness of their customer support systems, whether the contact is made over the phone, in a store or online. This includes effectively answering customer inquiries and accurately identifying those customers who need to speak directly with a representative, based on the type and severity of the problem they are trying to resolve."
Now in its seventh year, the semi-annual study provides a detailed report card on how well wireless carriers service their customers in three point-of-contact methods: telephone calls with a customer service representative (CSR) and/or automated response system (ARS); visits to a retail wireless store; and on the Web. Within each contact method, the study measures satisfaction and processing issues such as problem-resolution efficiency and hold-time duration.
Alltel, T-Mobile, and Verizon Wireless rank highest in wireless customer care performance, in a tie, each with a score of 747. Alltel performs particularly well when contacts are resolved through customer visits to the retail store and ARS, while T-Mobile's strength is in transferring customers from an automated response system to a live service representative. Verizon Wireless performs well with regard to identifying customer problems quickly and resolving them efficiently with service representatives.
"While each of the highest-performing carriers has individual strengths, all are successful in reaching the customer quickly," said Parsons. "All have representatives who demonstrate high levels of courtesy, concern and knowledge, which translates into effective problem resolution and higher satisfaction levels among their customers."
The study also finds several key wireless customer care patterns:
Nearly one-third of contacts pertain to the customer's cost of service.
Among customers who contact their carrier by phone two to three times to resolve an issue, 17 percent report they are likely to switch wireless carriers in the future. In comparison, just 10 percent of customers are likely to switch when the issue is resolved in one contact.
Fifteen percent of contacts result from calls or text messages originated by the wireless carrier. Those customers who contact their carrier after receiving these communications are more satisfied (744, on average), than customers who do not receive proactive contact from their carrier (730).
The 2009 Wireless Customer Care Performance Study-Volume 2 is based on responses from more than 12,000 wireless customers who contacted their carrier's customer care department within the past year. The study was fielded January through June 2009.
About J.D. Power and Associates
Headquartered in Westlake Village, Calif., J.D. Power and Associates is a global marketing information services company operating in key business sectors including market research, forecasting, performance improvement, training and customer satisfaction. The company's quality and satisfaction measurements are based on responses from millions of consumers annually. J.D. Power and Associates is a business unit of The McGraw-Hill Companies.