Say bye to your wired headphones and experience your music wirelessly, in CD quality & stunning colors.
Life comes to Bluetooth headphones this season with an exciting range of colors everyone can enjoy with the new Jaybird SB2 Sportsband Bluetooth Headphones. An optional Bluetooth + apt-X adapter is also available to further improve wireless listening.
Jaybird SB2 Features

Design
Turn heads with the timeless design of Sportsband. The design takes cues from the 80's while maintaining a sleek, modern edge.
Color comes to Bluetooth headphones
Look around and you'll find the Bluetooth headphones category has taken a back seat to style… until now. JayBird brings life to Bluetooth headphones with the fresh new Sportsband color range. There is a color for everyone and every occasion. There are 9 colors available: Limonade Green, Sonic Blue, Orange Crush, Runner's Red, Toffee Apple Red, Midnight Black, Polar Blue, PowderPuff Pink, Snow White.
Bass-rich Bluetooth Music
The freedom of wireless is a liberating experience. It's even more satisfying with the bass-rich Bluetooth music experience of the Sportsband. The Sportsband is well established now as offering high fidelity bass response, surprising many with it's warm thumpy beats.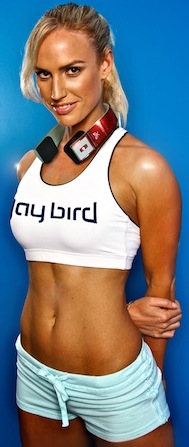 Introducing the option of CD quality Music Performance over Bluetooth
The new SB2 Sportsband comes with apt-X on board, which cleans up, adds depth, bass and treble to your Bluetooth music with technical specifications matching that of CD quality output. If your Bluetooth device has apt-X (or if you use an apt-X enabling Bluetooth adapter from JayBird), Sportsband finds it's 6th gear and kicks out pristine CD quality music performance. For those on the fence about Bluetooth audio performance, fence time is finally over.
Enhanced Call Performance
SB2 comes with upgraded hardware for improved volume, clarity and call performance.
Functions
Sportsband handles both stereo music and phone calls. Complete AVRCP remote controls are included on the headphones.
Ideal Workout Companion
JayBird is well established as the ultimate workout headphone with it's Lifetime Warranty Against Sweat across it's entire range. JayBird backs your commitment to fitness so use them as you like. Sweat it up, we've got you covered. With JayBird's heritage of audio products made for athletes, it's lifetime warranty against sweat and now it's long-term partnership with USA Triathlon, you know you're buying a quality product.
Pricing
Sportsband headphones are priced at $99 at www.jaybirdgear.com or Amazon.com