Integra announced its new, top-of-the-line DHC-80.3 THX-Ultra2 Plus Certified AV preamplifier/processor featuring HQV-Vida video processors, DTS Neo:X dimensional surround processing, Dolby Volume processing, improved networking and streaming media capabilities, plus numerous other features not included in last year's models.
The 9.2-channel DHC-80.3 uses the new DTS Neo:X dimensional sound processor, which is the industry's first 2.0/5.1/6.1/7.1-to- 9.1/11.1 conversion technology within a single algorithm, in addition to Audyssey DSX, and Dolby ProLogic IIz.. With eleven speaker- or line-outputs, it can accommodate a variety of different combinations of front, height, wide, and surround channels without the need to rewire speakers. The DHC-80.3 uses high-end balanced XLR outputs designed for optimal performance with a comparable high-end nine-channel power amplifier, like the Integra DTA-70.1.
The Integra DHC-80.3 uses the new IDT HQV Vida VHD1900 video processor, which replaces last year's HQV ReonVX chipset from the DHC-80.2. The new chipset provides additional high-performance video processing, including enhancement of low-resolution streaming video, and to facilitate ISFccc calibration capabilities.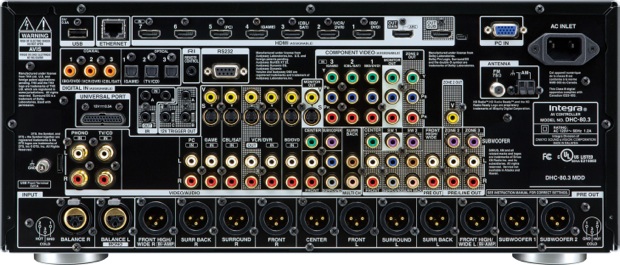 The DHC-80.3 features extensive networking capabilities with an Ethernet connection plus front and rear USB ports for digital storage devices and other devices. Direct digital connection for iPod/iPhone is available through the front panel USB. This receiver is certified for Windows 7 and DLNA, and can playback a great variety digital audio file formats via a home network or USB devices. An iPod or iPhone can also be connected using and optional dock connected via Integra's proprietary Universal Port, which can also be used for an optional HD Radio Tuner and forthcoming wireless devices. The network connection provides Internet radio and streaming music services, with preformatted service packages for Spotify, Mediafly, Pandora, Slacker, Napster, Rhapsody, vTuner, SIRIUS XM Internet Radio, and Last.fm.
Integra has also announced the immediate free availability of wireless remote control Apps that will allow all 2011 Integra processors and receivers to be controlled using an iPod/iPhone or Android wireless device.
Price and Availability
The Integra DHC-80.3 AV preamp processor is now shipping to Integra dealers, and will be available soon for $2,300 MSRP.