InFocus announced two IN120 series of projectors, offering high brightness and an incredible value at prices under $500. The InFocus IN120 projectors are ideal for conference rooms and classrooms with high ambient light. Both new projectors feature brightness up to 3200 lumens, an HDMI input, high contrast ratio of 3000:1, 3D technology, vivid color reproduction with BrilliantColor, and a slim, lightweight design that makes the projectors easy to move or install. Also they both look the same from the outside.
"The IN120 projector series offers huge brightness at our lowest prices yet for 3200 lumens," said Dave Duncan, InFocus Product Marketing Manager. "These new projectors are value-packed for classrooms and conference rooms, featuring top-notch image technology with HDMI connectivity, and deliver the high quality and reliability that customers expect from InFocus projectors."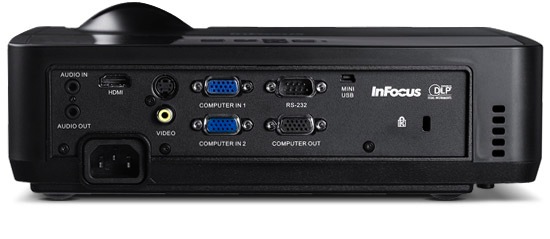 The InFocus IN122 projector offers SVGA (800 x 600) resolution and 3200 lumens in a compact and lightweight design.
The InFocus IN124 provides XGA (1024 x 768) resolution and 3200 lumens in a slim design weighing only 4.8 pounds.
Price and Availability
Both projectors are available now:
InFocus IN122 → $429
InFocus IN124 → $499