iHome introduced the iW1 Wireless Speaker System with AirPlay that plays music from iPhone, iPad, iPod touch or iTunes over your home Wi-Fi network. The iW1 also supports charging and local audio playback via USB by using the USB sync cable that comes with new iPods and iPhones.
"The iW1 takes full advantage of that connectivity that AirPlay offers consumers by seamlessly streaming music through the entire home," said Ezra S. Ashkenazi, President of iHome. "By simply adding additional speakers to the network, AirPlay can serve as a phenomenal whole-home audio solution for every lifestyle."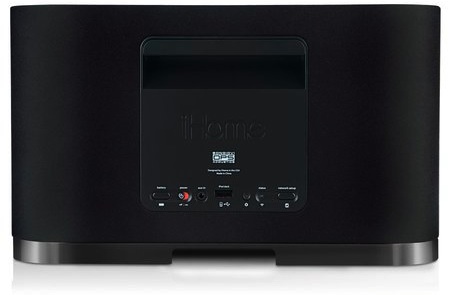 Powered by a rechargeable lithium-ion battery, the iW1 enables a truly wireless listening experience and employs Bongiovi Acoustics Digital Power Station (DPS) technology and four (4) active speakers for premium audio performance in a compact design. Using AirPlay, users can wirelessly stream music from iTunes, iPhone, iPad or iPod touch over Wi-Fi to the iHome iW1 speaker system and enjoy music in any room of the house.
iHome also offers extra controls in their iHome Set app for iPhone, iPad or iPod touch. However, early comments say the app is pretty much worthless.

Price and Availabililty
The iHome iW1 will be available for purchase throughout North America starting September 26, 2011 for $300.
See more about: iPod Docks, Wireless Speakers, Music Systems, iHome Speakers