Feature-Rich Models Deliver Brilliant Picture Performance at Affordable Prices
Building on more than half a century of leadership and innovation in television design and engineering, Hitachi Home Electronics (America), Inc. today announced a new LCD HDTV product line. The new LCD HDTV product line offers extensive features, superior performance and elegant design for which Hitachi products are known, while achieving pricing that will be attractive to value oriented shoppers.
Hitachi's UltraVision series, which headlines the first of two new series of LCD HDTVs, will be available in a 55-inch class home theater model and in 46-inch and 42-inch class screen sizes. Each model boasts 1080p resolution, 120Hz panel speed and Hitachi's Reel120™ smooth movie motion technology with up to eight high definition inputs and ENERGY STAR qualification.
The new Alpha series, available in 42-inch and 32-inch class screen sizes, includes four HDMI™ connections among the seven high definition inputs. Two of the HDMI inputs are conveniently located on the side panel for easy connection of game consoles and digital cameras. The technologically advanced and highly versatile Alpha series, which also includes a high definition RGB input for direct PC connectivity, will be accessible to almost any consumer's budget.
"Hitachi is very excited to be able to offer such an innovative, beautifully designed and well-equipped new line of televisions," said Bill Whalen, director of product development for Hitachi Home Electronics (America), Inc. "Value has never been more important to consumers, and we believe these new television products deliver a compelling combination of outstanding picture performance and valuable features at very sensible prices."
Hitachi's 2009 LCD HDTV line includes:
UltraVision Series
Hitachi's UltraVision line offers state of the art picture quality that is delivered by the latest 1080p technology. Consumers can enjoy spectacular color, razor sharp images and lifelike realism from a display that is also energy efficient and ENERGY STAR qualified. The UltraVision Series offers up to eight high definition inputs, including up to five HDMI™ pure digital inputs for the best possible picture. The stunning picture is surrounded by a slim, subtly curved gloss black bezel. The slim and light design is easily swiveled to accommodate various viewing positions. Additionally, the built-in ATSC/QAM/NTSC tuner allows consumers to easily access their HD channels. The UltraVision series will feature 55-inch, 46-inch and 42-inch class screen sizes and 120Hz panel speeds.
Alpha Series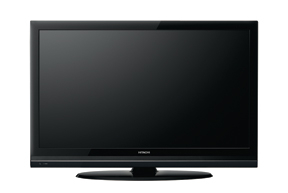 Hitachi's Alpha Series offers versatile connectivity with seven high definition inputs, including four HDMI™ pure digital inputs for a brilliant picture. Additionally, the televisions are ENERGY STAR qualified. Consumers can share their PC photos and videos with the high definition RGB input and use the swivel stand to optimize the viewing angle. Available screen sizes will include 42-inch (1080p) and 32-inch class (720p) with panel speed of 60Hz.
The Hitachi 2009 line will be released as follows:
UltraVision 55-inch Class L55S603
September
$1799
check price
UltraVision 46-inch Class L46S603
August
$1299
check price
UltraVision 42-inch Class L42S503
June
$999
check price
Alpha Series 42-inch Class L42A403
May
$849
check price
Alpha Series 32-inch Class L32A403
May
$499
check price