Hasbro announced MY3D, a unique handheld viewer which allows users to attach their iPhone or iPod touch and immerse themselves in a 3D entertainment experience. Touting both proprietary 3D technology and unique 360-degree content, Hasbro is bringing to market premium entertainment and gaming experiences for iPhone and iPod touch users.
The MY3D viewer features two access openings which allow users to interact with the Multi-Touch display of iPhone or iPod touch, and includes four different cradles to fit a user's specific model of iPhone or iPod touch (not included). The MY3D viewer is compatible with iPhone 3G, iPhone 3GS and iPhone 4 as well as second, third, and fourth generation iPod touch.
To experience MY3D, users must first visit the App Store and download available MY3D apps to their iPhone or iPod touch. Once an app is downloaded, users can immediately begin to immerse themselves in the 3D content and/or 360-degree environment.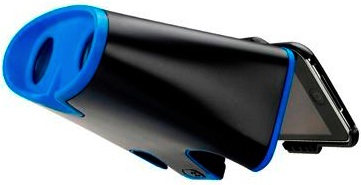 Each of the initial apps will offer different and engaging experiences for users of all ages and interests including an underwater shark adventure, virtual tour of Los Angeles, galactic battles, and a tunnel race against time. With MY3D users can see through the eyes of a shark as they explore and hunt virtual ocean locations, experience the sights and sounds of the Santa Monica Pier, and man the gunner station of a space ship as they protect a vital section of the galaxy. Hasbro is also working with some of the leading names in 3D entertainment including DreamWorks Animation, Sony, Twentieth Century Fox Home Entertainment, and Warner Bros. for potential custom content and theatrical trailers.
The following are the first MY3D apps available on the App Store:
MY3D PRESENTS… Introduces you to the exciting world of MY3D, showcasing 3D movie trailers, cool video demos of additional my3D apps, slide shows and more. MY3D PRESENTS… is updated regularly on your device as new content is available for you to sample.
MY3D 360° SHARKS: Explore and hunt the living ocean through the eyes of a shark! MY3D 360° SHARKS immerses you in an underwater shark adventure. Choose your shark and then roam underwater, exploring and hunting for new species of prey. As you explore, search for treasure, shipwrecks and other surprises, and learn about the species around you. You can even break the surface to see the upper world. With six unique environments, there is always a new adventure around the next reef.
MY3D SECTOR 17: Welcome to MY3D SECTOR 17, a one-of-a-kind 3D, 360 degree shooter game in which you are the galaxy's last defense. Assume your role at the gunner station, select from an arsenal of weapons, and stop all enemies as they approach. Move fast because danger comes from above, below, and behind you. Watch out for asteroids! With 22 incredible 3D levels including an "endless" survivor mode, cool bosses, upgrades, and multiple weapons, it's time for you to dominate the battle.
MY3D TELEPORT L.A.: With my3D Teleport L.A. you can explore exciting Los Angeles attractions anytime and anywhere…like you're really there! This unique 360°, 3D interactive virtual tour allows you to experience L.A. from the Santa Monica Pier. You can simply explore or play fun interactive games. You'll love your visit to Los Angeles!
MY3D BUBBLE BOLT: Welcome to the wacky world of MY3D BUBBLE BOLT! Become a Fish, Shark, or Starfish and navigate your way past obstacles by tilting and moving your viewer. This frenzied puzzle game is easy to learn, highly addictive and provides endless fun with 25 3D levels. Watch out and don't fall off the edge, or your bubble will drop into the sea!
MY3D TUNNEL PILOT: The next generation of racing takes place in 3D tunnels underground. This futuristic game allows you to compete against other hover vehicles by tilting and turning your MY3D viewer. Use your cache of weapons to battle for supremacy in land, sea, and air. But, you will need quick reflexes to avoid steel door traps, and enemy racers on 12 unique racetracks. Choose from one of six racers. Do you have what it takes to be the best in this 3D reflex-testing racing game?
MY3D SHATTERSTORM: Defend the galaxy from the invasion of the drones. As humanity's last hope in this futuristic pilot shooter, you'll need fast reflexes and an even faster trigger finger to save the galaxy from dangerous enemies with a deadly array of attacks. Rack up points by destroying enemies quickly in succession and earning multipliers. Compete for the top spot on the high score list as you play 60 challenging levels that transform as you progress.
Price and Availability
The MY3D viewer will be will be available in either black or white for for $34.99 exclusively at Target stores and Target.com on April 3 and is expected to roll out to retailers nationwide in June 2011. At launch, MY3D apps will be available for free; charges will apply for some MY3D apps in the future. Not all apps are available in 360 degree viewing. Not all apps are compatible with all generations of iPhone and iPod touch listed above.