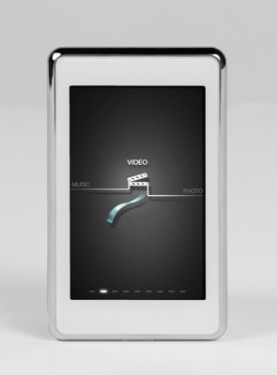 Haier Theatre Puts Full Entertainment Experience in the Palm of your Hand
Get more from a portable media player, with Haier's full touchscreen Theatre. The 3.0″ screen has a crisp, precise picture that makes watching different video formats look even better. The sophisticated touchscreen can view entertainment vertically or horizontally with the integrated accelerometer that switches the picture when device is turned. Shake controls allow you to switch songs by just shaking the unit.
"The Theatre offers a full entertainment experience with a large touchscreen and shake controls that allow you to move to the next song on your play list with a shake of the unit," says Stewart Katz, Vice President Portable Media and Electronics.
The Theatre supports a variety of music service connections, with several options for video playback including AVI and MPEG4. These file types make it easier than ever to download or upload your favorite movies, shows and pictures.
As part of the purchase, Haier is offering 35 free eMusic downloads and a free audiobook with a free 14-day trial offer (first-time signup & credit card required). eMusic delivers a deep, immersive music experience by combining the best of ecommerce, a state-of-the-art recommendations system, top-notch social and community features, and award-winning editorial content. Plus, with over 6 million songs and 6,000+ audiobooks to choose from, at prices that easily beat other mass market digital music retailers, you will have plenty of great content to choose from at eMusic.
Available in 4GB (model: HV3A-4G) or 8GB (model: HV3A-8G) memory sizes, the Theatre comes with a long lasting battery allowing for 12 hours of uninterrupted audio playback.
Product Features Include:
4 GB or 8 GB memory
3.0″ Capacitive Touch Screen
400×240 (WQVGA) Display Resolution
Built in FM tuner
Built in Accelerometer
3.5mm Headphone Jack
Voice Recorder: 8KHz/25KHz, WAV
Supports MP3, WMA, AAC, OGG, MPEG4 (AVI) and JPEG formats and TXT
12 hours of audio playback
Integrated lithium ion rechargeable battery
35 FREE eMusic downloads
About Haier America Digital Products Group
Haier has announced the formation of a new Digital Products Group as part of the company's long term strategy to leverage the convergence of multiple technology platforms. Under the Digital Products Group, Haier is continuing to grow its LCD television business and establish portable electronics with an ever-expanding line of portable media devices, including MP3 players, portable digital televisions and headphones. Haier is defined by producing innovative solutions that meet customers' changing needs. Haier is the Official High Definition Television of the NBA.