Griffin Technology Inc. introduced the AirCurve Play acoustic amplifier which makes the speaker of your iPhone 4 ten decibels louder, and it works without batteries, cables, or power adapters. Just slip your iPhone into AirCurve's rubber dock gasket, and your iPhone 4 becomes the perfect portable audio/video conference phone, video viewer, and self-contained music player or beside alarm clock.
AirCurve is a cleverly designed acoustic amplifier that collects the sound from the built-in speaker of your iPhone, amplifies it in a coiled waveguide within the base, and projects it out into the room. Though AirCurve, itself, uses no power, it features a pass-through slot that allows you to insert your own cable so you can charge and sync while you listen. AirCurve's transparent polycarbonate body lets you appreciate the graceful curves of the waveguide inside that do all the work. An adjustable wire stand lets you position your iPhone for landscape or portrait viewing from multiple angles.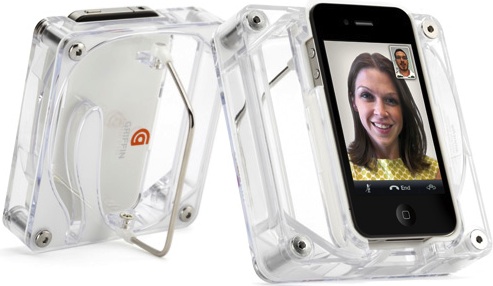 Pricing and Availability
AirCurve Play, $19.99, is now available at major retailers everywhere.
Reviews Around the Web:

griffin aircurve play
<!-comments-button-->