Grace Digital Audio announced the FireDock stereo speaker and charging dock for Kindle Fire that accommodates the unique USB port, headphone jack and power button, all located on the bottom of the tablet. Many universal 3.5mm speaker docks don't allow charging while in use and make it difficult to access the device's buttons. The Grace FireDock not only charges the Kindle Fire while on AC power, but the optional (sold separately) lithium-ion battery-pack allows for maximum portability. Exclusively sized for the Kindle Fire, the rotating cradle securely holds the 7-inch tablet, while accommodating horizontal and vertical viewing angles.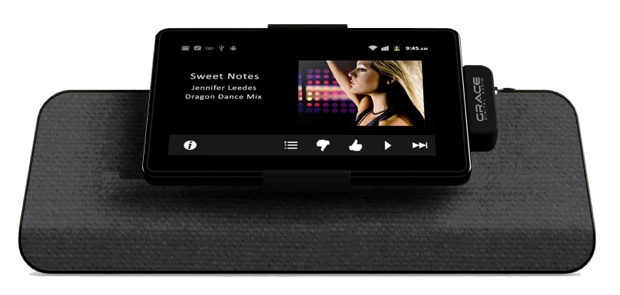 Grace Digital's full range base ported stereo speakers and Class D Digital Amplifier, provide a crystal clear stereo sound unrivaled by generic Android docks.
"Grace Digital's design approach on the FireDock was to provide the optimal solution around clearly defined requirements of Kindle Fire users," says Greg Fadul, CEO of Grace Digital Audio. "There are hundreds of iPod speaker docks, but there is no quality audio solution for the 14 million Americans who have purchased the 7-inch Kindle Fire tablet. Grace Digital engineered the FireDock as a no compromise solution to enhance Kindle Fire's multimedia offerings such as Netflix, Pandora Internet Radio, and Amazon audio books."
Price and Availability
The Grace Digital Audio FireDock (model GDI-GFD7200) will be available July 2012 for $129.99.