The AIW26 Active In-Wall Loudspeaker allows for a clean look for the front wall while the compact yet powerful HTS3B Active Subwoofer reinforces low frequencies in a fireplace
Genelec Custom Installation products easily interface with high-end home automation and whole-house audio systems to integrate complete home theater solutions
Components from Genelec Custom Installation Systems helped upscale home theater designer and integrator Integrated Media Systems (IMS), based in the Greater Baltimore/Washington D.C. Metropolitan Area, effectively create and build two challenging home theaters in eastern Virginia. Products including the AIW26 Active In-Wall Loudspeaker, the HTS4B and HTS3B Active Subwoofers, and the AIC25 Active In-Ceiling Loudspeaker were tools from Genelec's broad array of speakers for home theater systems integrators to use to achieve the vision that they and their clients have for the ultimate home entertainment experience.
Photo: Genelec Home Theater in McLean, VA
"Each of these home theaters had its own, specific challenges that we had to meet," says Tom Wells, President of IMS, winner of several CEDIA and other top design awards for their work since 1979. One particular customer in The Reserve community in McLean, Virginia, sought to turn their unfinished basement space into a family entertainment destination, including a home theater, gaming area and wine cellar. IMS added acoustical treatment and isolation to the theater area, including RPG Diffusors and coordinating materials such as fabric for walls with the interior designer. "They wanted a clean look, with none of the home theater technology being seen," says Wells.
In order to keep the front screen wall as visually unobtrusive as possible, IMS relied upon Genelec's AIW26 Active In-Wall Loudspeaker. Three AIW26's were used as the L-C-R array, installed in the wall behind the perforated screen. With the Lexicon MC-12 Balanced Digital Controller (THX-certified) processor adjusting their level, the AIW26's provide a virtually invisible, yet powerful L-C-R array. Two more AIW26 speakers are installed in the side and two more in the rear, with a Genelec HTS4B subwoofer constituting a full 7.1 theater sound system. The HTS4B is equipped with one active magnetically shielded 12″ driver mounted on the front side of a compact cabinet and two 12″ passive radiators, one on each side of the cabinet. The perfectly matched 400-Watt amplifier unit is integrated in the subwoofer cabinet, producing powerful yet controlled bass. "The Genelec speakers gave us pristine audio while offering a completely transparent sound solution," says Wells.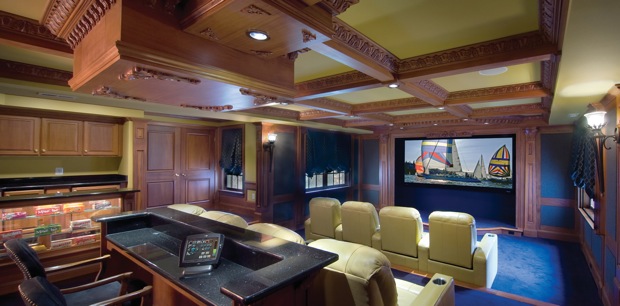 Photo: Home Theater in Clifton, VA
At another private residence in Clifton, Virginia, Genelec Custom Installation products offered IMS even more creative options for their customer. AIW26 speakers were used similarly as an invisible L-C-R array behind the screen. However, the screen wall also had a large fireplace that had been sealed off as part of a renovation. In order to make best use of the space, IMS utilized two Genelec HTS3B subwoofers, configuring them to fit perfectly into the space that had been the fireplace opening. The HTS3B is equipped with one active magnetically shielded 10″ driver mounted on the front side of a compact cabinet and two 10″ passive radiators, one on each side of the cabinet. A specially designed 200-Watt amplifier unit is integrated in the subwoofer cabinet, and bass roll-off rate and crossover phase can be adjusted to suit different acoustic environments and subwoofer positioning. "That kind of flexibility allowed us to get maximum low-frequency response into a confined space," says Wells.
Additional Genelec units selected for this project were the AIC25 Active In-Ceiling Loudspeakers. These two-way active speakers each employ a 5″ bass driver and 3/4″ treble driver (metal dome) and feature a RAM2 remote amplifier module, which includes active crossover circuitry and separate, matched 40-Watt power amplifiers for the bass and treble drivers. The AIC25 were used as side speakers for 7.1 surround system because an opening in the side of the theater rooms precluded in-wall speaker placement. But the AIC25 was able to pull off yet another trick, as well. The owner wanted to know if the front doorbell would ring during a movie but didn't want the sound to interrupt others watching. So IMS routed the doorbell signal, through the ELAN Home Systems Com2 system, part of the residence's home automation setup, to just the one AIC25 speaker that was positioned above the owner's theater seat. "That was a tough place to position full-range speakers for, but the AIC25 was the perfect solution," Wells says. "In fact, Genelec products have become a staple of design for us for exactly those reasons: great sound and a clean look in any situation."
Genelec, the pioneer in Active Monitoring technology, is celebrating over 30 years of designing and manufacturing active loudspeakers for true and accurate sound reproduction. Genelec is credited with promoting the concept of active transducer technology, which many manufacturers are just now incorporating into their products. Since its inception in 1978, Genelec has concentrated its efforts and resources into creating active monitors with unparalleled sonic integrity. The result is an active Custom Installation speaker system that has earned global acclaim for its accurate imaging, extremely high acoustic output from small enclosures, true high-fidelity with low distortion, and deep, rich bass.