New for 2009!
FTP-615 Power Filter and AC Distributor
Featuring Axial Locking System and EMI-Absorbing GC-303
MSRP: $700 • Shipping 2nd Week of January '09
Tokyo • December 22nd, 2008 • Furutech Co., Ltd., manufacturer of analog and digital audio and video cable and accessories, debuts another Pure Transmission Power Filter and AC Distributor, the
FTP-615.
Features
• All conductors treated with Furutech's Alpha Cryogenic and Demagnetizing Process
• Nonmagnetic 24k gold-plated Alpha phosphor bronze Pure Transmission receptacles feature nylon/fiberglass bodies incorporating nano-size ceramic particles forming an extremely effective nonresonant body
• Furutech's Axial Locking System lowers receptacle resonance by a factor of 10
• AC-1501 noise-filter inlet features 24k gold-plated Alpha brass conductors
• Beautifully-crafted highest-grade aluminum chassis effectively shields against RFI (Radio Frequency Interference)
• Layer of Formula GC-303 bonded to the bottom plate effectively shields against EMI (Electro Magnetic Interference)
• Star-wired conductors of Furutech Alpha)-22, 3.8 sq. mm (12 AWG) for low electrical resistance insulated inside resonance-absorbing tubing
Furutech Award-Winning Pure Transmission Philosophy
Many A/V enthusiasts go to great lengths to carefully set up major system components, but pay little attention to the source, the AC power. Meticulous build quality is a large part of the engineering equation. Furutech Pure Transmission technology turns a macro lens on every element of power and signal transfer applying optimized engineering solutions to well-known problems such as contact resistance, EMI and RFI rejection, grounding, and using the best materials and processes available.
Formula GC-303
GC-303 is a special material Furutech bonds to the interior bottom-plate of the chassis. that absorbs EMI (Electromagnetic Interference) generated by the internal fittings of the unit.
Interior Layout
The image below Illustrates the FTP-615's AC-1501 Power Filter and full star wiring on hot neutral and ground running in resonance-damping tubes for maximum isolation.

Furutech's Patent-Pending Axial Locking System
Furutech designed a special locking screw that anchors each duplex receptacle preventing oscillation and enhancing long-term stability. A special 3M material surrounds and isolates each duplex outlet from resonance as well. Each Axial Lock is torqued to perfection to work with the 3M resonance control material at the factory.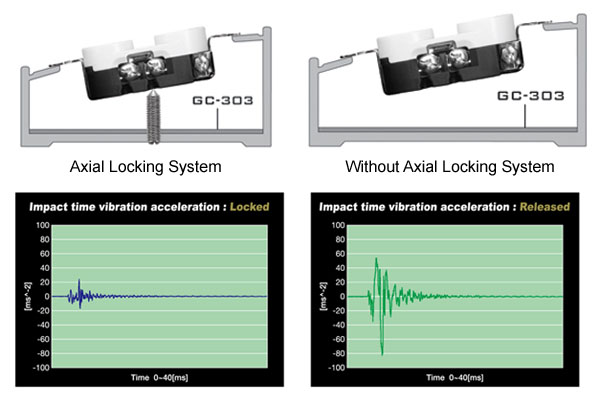 Axial Locking Reduces Noise, Oscillation and Vibration By Nearly A Factor of Ten!
About Furutech
Furutech makes a wide variety of high performance 15A and 20A A/V cable and power connectors and parts, as well as distribution/filtering products like the new 120Hz standard xv1.3 HDMI cable, Ag-12 Silver Tonearm Cable, Pure Power 6, e-TP4+4, e-TP609 and e-TP60 Power Distributors, and e-TP80 Power Filters, deMag Disc and Cable Demagnetizer, the deStat, a fan-driven, Balanced Ion Drive device for totally eliminating static from LPs and CDs, DF-2 LP Flattener, lightweight and stylish FRD Room Diffusion Panels, PC-2 Disc Pure Cleaner, and their own very special NANO Liquid Contact Enhancer, plus even more fine cable and OEM products.
Make A More Powerful Connection with Furutech!
FURUTECH CO., LTD • service@furutech.com • www.furutech.com
Press • Info • Review • Images • Scull Communications • 212.807.0519
jscull@scullcommunications.com • www.scullcommunications.com
www.scullcommunications.com/pressresources.html
###