Combines Style and Functionality With YouTube and Facebook Upload Features
FUJIFILM North America Corporation just announced the FinePix Z70, the latest addition to the fun and fashionable range of Z-series compact cameras that's perfect for the tech-savvy and chic-minded photographer. The FinePix Z70's impressive feature set includes one-touch movie capture HD, LED illuminated operation keys and tagging with automatic upload functions to YouTube and Facebook. The FinePix Z70 also boasts a 12-MegaPixel CCD sensor, a large 2.7″ High Resolution LCD and a Fujinon 5x periscopic optical zoom lens (36mm-180mm equivalent) for added range and flexibility.
"Fujifilm pays close attention to the needs of style conscious consumers and offers a range of social networking capabilities making it easier than ever for them to share their pictures and videos," said David Troy, marketing manager, Consumer Digital Cameras, Electronics Imaging Division, FUJIFILM North America Corporation. "Add in HD movie capability, and this camera is great for young people looking to capture high-quality videos with their digital cameras."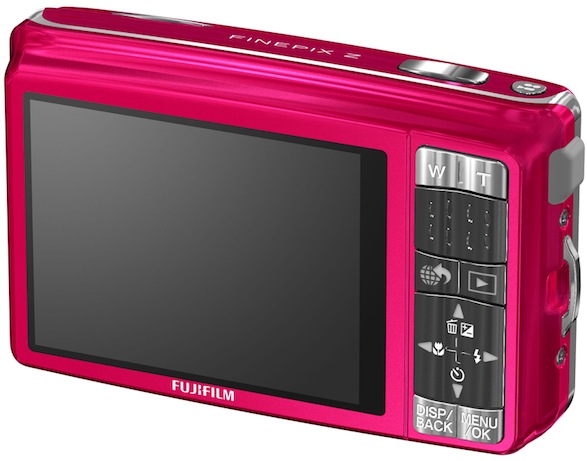 Chic New Design
Debuting a sleek new look, the FinePix Z70 features a sophisticated metal body and a chic horizontal sliding lens barrier. At a mere 18.1mm thin, the FinePix Z70 is ultra-portable and can be slipped into a handbag or jean-pocket with ease. It is available in a choice of Black, Silver Blue and Berry Red, and features LED illuminated keys that allow users to easily navigate the camera's functions in dark conditions.
Easy Web Uploads
As sharing photos online has become an everyday activity for many young people worldwide, Fujifilm has developed a new Facebook/YouTube Automatic Upload feature that makes for quicker and easier modes of posting photos/videos on social networking sites. Featured in both the FinePix Z70 and FinePix XP10 digital cameras, the one-touch easy web upload button allows users to mark a photo for Facebook or YouTube upload. Once the camera is connected to a PC and MyFinePix Studio software is launched, all marked photos or movies will upload directly to Facebook or YouTube at the press of a button.
HD Capability
With 720p HD movie recording and a high 12-MegaPixel resolution, the FinePix Z70 can capture stunning, detailed images that can be played back in beautiful detail on your HDTV. In addition, the FinePix Z70's one-touch movie button it is simple to create your own video clips. The newly added Movie Edit feature allows users to add personalized finishing touches to footage by editing videos and incorporating various effects including B&W, Sepia or dynamic lighting settings. Along the same theme, Blog Mode lets users add special effects to their photos including color tones, contrasts and brightness changes, Diagonal Crop and Face Mosaic.
The FinePix Z70 also boasts the following noteworthy features:
Tracking Auto Focus (AF): Tracking Auto Focus tracks fast moving subjects so they don't escape from the frame in a blur. AF tracks a subject automatically for as long as the shutter is half-pressed, and once users fully press the shutter, the picture is taken with the subject in the centre of the frame in perfect focus.
Digital Image Stabilization: Digital Image Stabilization reduces image blur automatically and offers creative adaptability and excellent picture quality.
Scene Recognition Auto (SR AUTO): This mode intelligently detects the scene-type and shooting conditions and optimizes the camera settings accordingly.
Face Detection and Automatic Red-eye Removal: To provide perfectly exposed and focused portrait shots, the FinePix Z70 is fitted with Fujifilm's latest Face Detection technology which is able to track up to 10 faces simultaneously, at almost any angle to the camera. The system instantly corrects red-eye and then saves both the original and the corrected image file automatically.
The FinePix Z70 will be available in February 2010 at a retail price of $149.95.