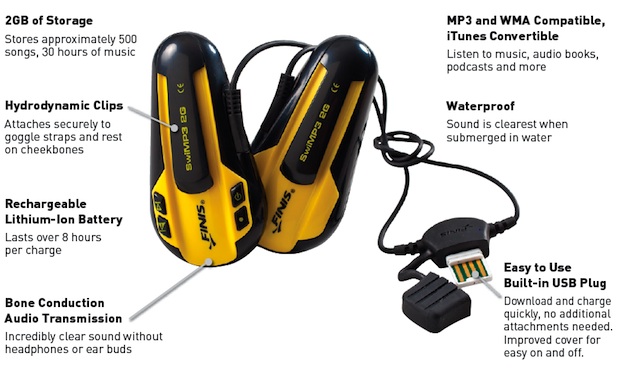 FINIS announced the SwiMP3 2G, an upgraded version of their underwater MP3 player that holds up to 2GB of music. The SwiMP3 2G utilizes patented bone-conduction technology to deliver clear sound underwater, perfect for swimmers and triathletes looking to eliminate the watery silence of swimming lap after lap. The SwiMP3 2G which offers twice as much music as the original SwiMP3 1G for a total of 30 hours or approximately 500 songs.
The unique and patented bone conduction technology utilized in the FINIS SwiMP3 2G takes enjoying music to another level by transmitting high-fidelity sound underneath the water. As FINIS holds the international patent on bone conduction technology, standard players rely on the transmission of sound through air or water, which causes the swimmer to hear distorted sound. Humans normally hear through air conduction, but because there is no air underneath the water, bone conduction provides the clearest sound quality possible. The sound vibrations can be directly transferred from the cheekbone to the inner ear, giving the swimmer the ultimate sensory experience whether engaged in training workouts or recreational activities.
Features
Bone Conduction Audio Transmission: Incredibly Clear Sound Without Headphones or Ear Buds
MP3 and WMA Compatible, iTunes Convertible: Listen to music, audio books, podcasts and more with incredible sound quality while swimming
2GB of Storage: Stores approximately 500 songs, 30 hours of music
Hydrodynamic Clips: Attaches securely to goggle straps and rest on cheekbones
Built in USB Plug: Easy to use, download and charge quickly, no additional attachments and requirements. Improved cover for easy on and off.
Rechargeable Lithium-Ion Battery: Lasts over 8 hours per charge
Waterproof: Sound is clearest when submerged in water
Includes: SwiMP3 Player, Carrying Case, Instruction Manual
"We created the SwiMP3 2G specifically for swimmers so they could continually swim to the crystal clear undistorted sound of the music that motivates them," says John Mix, President of FINIS. Our new version of the SwiMP3 features 2GB of storage that can hold up to 500 of your favorite tunes and is free of cumbersome ear buds."
Price and Availability
SwiMP3 2G is available from November 1, 2011 for $159.99 at Amazon.com.