ESOTERIC, a division of TEAC America, Inc., manufacturer of high end consumer electronics, demonstrated their new CD/SACD disc player model X-05 at CEDIA 2008. First shown as a prototype at CES 2008, the X-05 includes Esoteric's latest VRDS-Neo "VMK-5" transport mechanism. This new VRDS transport expands the VRDS family and is optimized for the high speed rotational requirements of Super Audio CD and CD. The X-05 incorporates a newly developed, high precision aluminum and polycarbonate turntable and a new drive mechanism for disc loading.
Disc tray opening, clamping and closing is managed by a proprietary process know as "differential gearing." This system (Patent pending), enables exceptionally smooth disc loading through the seamless engagement of the tray and disc clamp gears during the load sequence. This reduces the number of parts required and adds to system longevity.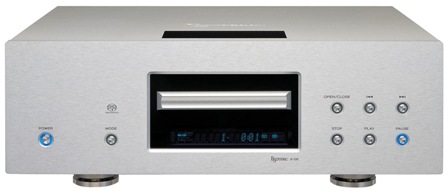 The short spindle shaft design implemented in the X-05 contributes to very stable turntable rotation, reducing vibrations and random movements associated with long shaft designs. The new spindle motor incorporates a frequency generation sensor enabling self detection of rotational speed. Unlike conventional designs, this provides ultra fast motor response and optimal speed control capability.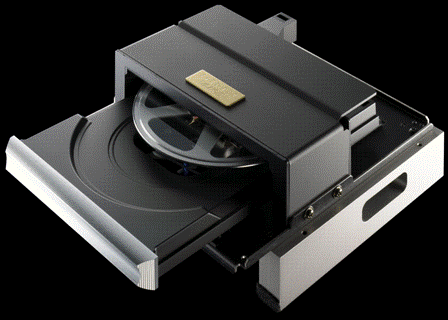 The X-05 uses Cirrus Logic's 24-bit/192 kHz processing DACs, model CS-4398. The analog audio output circuits are engineered in a dual mono configuration helping to produce superior channel separation. This 2 channel dedicated circuit and a dual mono DAC implementation contributes to precise imaging and a deeper sound stage for the X-05. Previously, ESOTERIC only offered VRDS technology at disc player price points of $8200.00 and above. The new X-05 allows a wider range of consumers to experience the benefits of VRDS engineering in a more cost effective package. Available in silver or black, the new X-05 (MSRP $5999.), is available now through Esoteric's dealer network of audio/video specialists. For more information please see: www.teac.com/esoteric/X-05.html
About TEAC ESOTERIC Company
Esoteric has been delivering the finest audio video components to the most discerning users for over 20 years. All components used in building the VRDS-NEO (Vibration Free Rigid Disc Clamping System), VOSP (Vertically Aligned Optical Stability Platform), D/A converters, master clocks, SACD/CD players, universal disc players and other electronics; are hand-selected, matched, and graded, to combine into a single, synergistic component. In the USA, Esoteric products are distributed by TEAC America. The TEAC Corporation of Japan is Esoteric parent company and was established in 1953.
About TEAC America, Inc.
TEAC America, Inc., the largest subsidiary of the Japanese electronics maker TEAC, distributes high grade audio video electronics, consumer electronics, computer data recording and storage devices, computer peripherals and professional recording equipment. Products are marketed by TEAC America under the brand names ESOTERIC, TEAC and TASCAM. TEAC America, Inc. was established in 1967. To learn more about ESOTERIC technology, please visit: www.teac.com/esoteric/