Epson announced the affordable PowerLite Home Cinema 710HD 3LCD Projector providing 720p high-definition resolution for screens up to 120-inches. Designed to make home entertainment simple, the Home Cinema 710HD features easy and flexible setup — just place it in an entertainment center or mount to the ceiling 3.5 to 35.5 feet from the wall or screen. The Home Cinema 710HD offers new Easy-Slide image correction, an intuitive horizontal keystone adjustment slide control bar that allows users to place the projector off-center from the screen and easily center the image with the touch of a finger. Boasting 2,800 lumens of color and white light output and 720p resolution, the Home Cinema 710HD offers widescreen entertainment with bright and vibrant image quality.
The Home Cinema 710HD is equipped with built-in speakers and versatile connectivity to support DVD players, TV receivers, gaming consoles, PCs, Apple devices and smartphones. It also features four pre-set color modes optimized for various viewing environments, as well as HDMI connectivity and a USB 2.0 connection for sharing photos and slideshows. With a special color mode dedicated to gaming, the Home Cinema 710HD allows users to play their favorite video games or watch their favorite TV programs even in well lit rooms.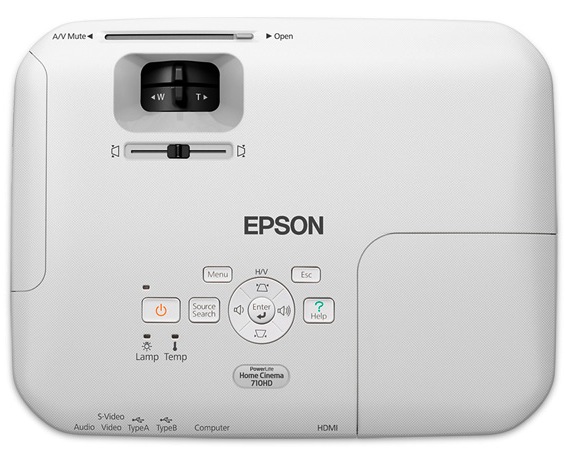 Features
3LCD Quality and Reliability: 3LCD, 3-chip technology delivers incredible color, amazing detail and road-test reliability with no possibility of color break-up or "rainbow effect"
Easy Setup and Installation: 1.2x optical zoom for positioning flexibility, automatic vertical keystone (+/- 30 degrees) correction, easy-slide horizontal correction for easy image adjustments, and Instant On/Instant Off technology allows for no waiting time to start or shut-down projector
Versatile Connectivity: Component Video, S-Video, HDMI, USB Type A and B digital connections, and USB 2.0 to share photos and slideshows
Extended Lamp Life: Epson's exclusive E-TORL lamp technology provides optimum light uniformity, increased light output, and minimizes both light diffraction and light leakage, providing the ultimate in lamp longevity; maximizes viewing time, while minimizing costs for up to 5,000 hours of lamp life

Availability and Support
The EPSON Home Cinema 710HD will be available in late April 2012 for $649.