Emotiva Audio Corporation announced the Emotiva Professional Systems (PS) Line of home entertainment audio and video components designed for the custom installation channel.
The new Emotiva Professional Systems (PS) Line offers all the advantages of Emotiva's high-performance/high-value "direct from the manufacturer" business model in a broad range of components that have been conceived specifically for integrators and installers.
Emotiva is famous among A/V enthusiasts for the company's true high end A/V products and first-rate customer support with a manufacturer-direct business model that provides exceptional value along with advanced technology. The new Professional Systems lineup will carry this high-value, high-support philosophy directly to the custom installation channel, where integrators will now be able to enjoy the same advantages of speed, support and factory-direct pricing.
The Emotiva Professional Systems lineup will debut with eight new A/V products that offer outstanding new options for CI dealers and integrators. Two innovative A/V models (AVR and processor, respectively) feature integrated Control4 iQ technology which includes Control4® controller functionality, with the flagship unit featuring HDMI 1.4 for the most up to date functionalities, including 3D video. Additional receiver and processor models without Control4 iQ and with HDMI 1.3 implementation will also be available, for applications that don't require automation control or 3D capabilities.
In keeping with its multiroom, custom-install focus, Emotiva Professional Systems will also include two new multizone power amplifiers designed for distributed audio applications, with 45 watt amplifiers that have been designed for six and twelve-zone operation. Rounding out the debut amplifier lineup are two new 7-channel power amplifiers featuring 200 and 350 watts of clean, audiophile-approved sonic power.
The Emotiva Professional Systems lineup will launch in January of 2011.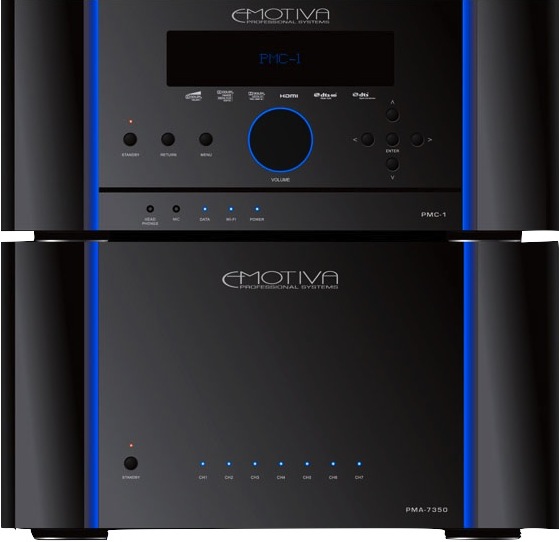 Reviews Around the Web:

emotiva professional systems