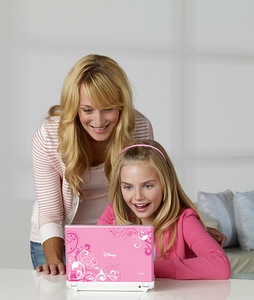 ASUS' Disney-themed Netbook Promises Hours of Wondrous, Wholesome Web-safe Fun for Kids
ASUS, the pioneer and leader in the netbook category with nearly 7 million Eee PC™ netbooks sold to date, announced a new netbook that is certain to put a sparkle into children's eyes–the Disney Netpal by ASUS. The product of a collaboration between ASUS and Disney Consumer Products (DCP), every facet of the Disney Netpal–from its hardware to its software–is infused with the Eee PC's™ trademark ease-of-use and Disney's charm, making it a child's perfect study buddy and play pal.
Developed with parents and kids in mind, the Disney Netpal by ASUS boasts a durable, reinforced mechanical design, and offers a truly magical and engaging computing experience with its unique Disney user interface. Features include more than 40 robust parental control options, an 8.9-inch LCD display, Wi-Fi capabilities, Windows XP Home, and kid-friendly software featuring Disney characters and icons in stunning visual environments. Browsers and email have extra filters to assure that kids only get access to safe content, and parents can easily select whom children can correspond with via email. The Magic Desktop "gadget tray" offers a creatively designed 2D menu displaying Disney email, Disney browser and Disney parental control options.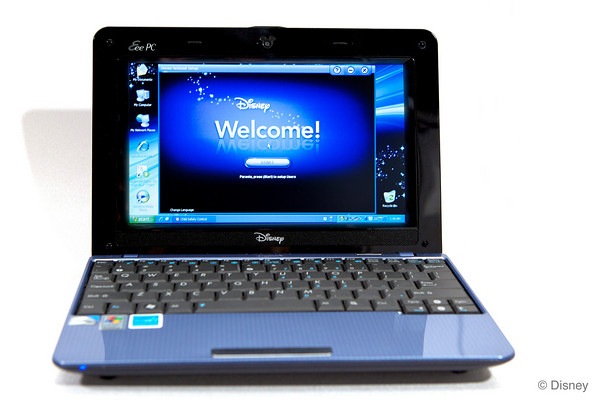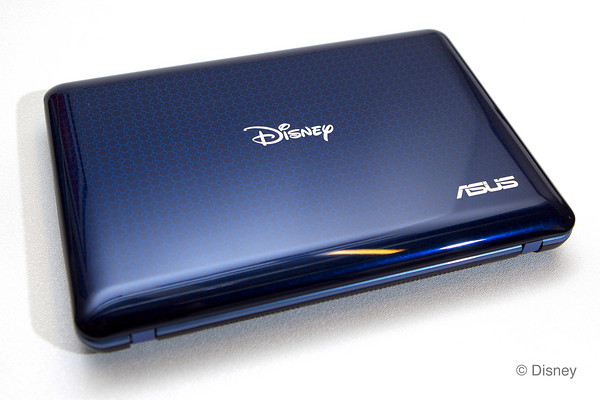 "We're proud to be involved in the creation of this very unique netbook for kids," said Eric Chen, Vice President of ASUS' Systems Business Group. "The Disney Netpal is creatively designed in a way that truly keeps the Disney magic alive, and its state-of-the-art features make it an excellent choice for kids and families."
"Today's kids are a digital generation," said Chris Heatherly, head of DCP's Toymorrow team and VP of toys for Disney Consumer Products. "Parents are comfortable with their kids using the Internet, but they want to be assured that their kids are having a safe online experience. The Disney Netpal, jointly designed by ASUS and our Disney Toymorrow team, is a no-compromise device. There are plenty of terrific features and fun applications designed just for kids, but parents have ultimate control over the experience, with the power to set limits on how their kids are using the PC."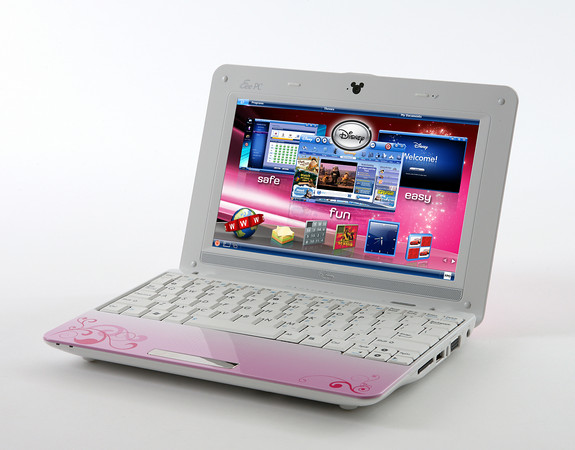 Computing Is Fun: Disney-themed Desktop, Applications and Games
From the lively Disney graphics on the LCD lid and Mickey-shaped webcam lens to the Disney-themed desktop* and special Disney applications, the Disney Netpal by ASUS perfectly captures the magic of Disney. Kids can dress their desktops–aptly named Magic Desktop–in a wide variety of customizable themes featuring the lovable characters from Disney's and Disney Pixar's animated blockbusters, including Cars, Club Penguin, Disney Classic Characters, Disney Fairies, Disney Princess, Vintage Mickey Mouse, Toy Story and WALL-E. Themes that appeal to slightly older kids, such as Hannah Montana and Jonas Brothers styles, are also available.
Adding to the educational fun are Disney-developed applications such as Disney Mix* for music and media management, Disney Pix* for photo customization and organization, and Radio Disney*. The Disney Pix application features fun Disney Bobblehead software, which lets kids insert images of their faces on top of bodies, download them into videos and postcards and play wacky moving dance scenes, for hours of fun. The Radio Disney* widget streams real-time music and lets kids simultaneously submit song requests, if they wish. The Disney Netpal by ASUS also includes a driving game, memory game and photo scrapbook.
Computing Is Easy: Kid-friendly Magic Desktop, Applications and Widgets
The Disney Netpal by ASUS is designed to go from package to play in just minutes. Its Magic Desktop is an easy-to-use interface specially tailored to kids, boasting large icons and visual instructions that make it easy for kids to operate the computer. Rounding off the Disney Netpal by ASUS' kid-friendly edutainment features is a collection of easily-accessible widgets, including an alarm clock, a digital memo pad which inserts "reminder notes" on the Magic Desktop, and a calculator.
Computing Is Safe: Durable Design with Robust Kid-safe Features
The Disney Netpal by ASUS is designed to be kid-safe, both in terms of durability and content permissions. In terms of the former, the Disney Netpal by ASUS has a reinforced mechanical design that can withstand significant abuse, a spill-proof keyboard that protects against inadvertent liquid spills, and ShockShield Data Protection that guards against data loss when the computer is subjected to impacts. It also has a stable embedded polymer battery, which is safer as it prevents kids from inadvertently accessing or removing the battery and thereby subjecting themselves to electrical dangers.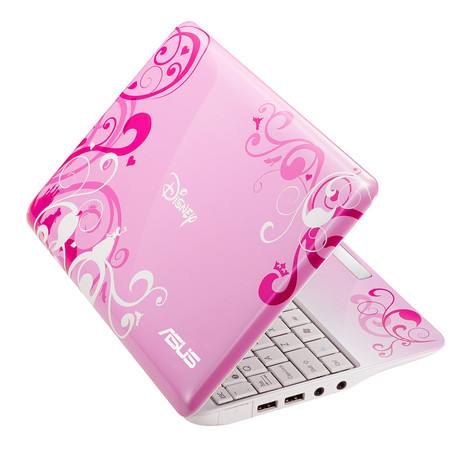 With regard to content permissions, the Disney Netpal by ASUS provides a kid-safe computing environment through robust parental control measures, such as allowing parents to choose the websites their kids can visit, the people they can communicate with via email, and the programs they can use. These permissions can even be scheduled according to a calendar, providing parents with a convenient, automated means of granting access on the days and times set by them. Parents can also pull up data to determine where children spent time, and for how long. Right out of the box, the Disney browser launches more than 40 safe, pre-approved websites.
Pricing and Availability
The Disney Netpal by ASUS will be launched in the US at a suggested retail price of USD349**. It comes in two choices of stylishly designed lids; Princess Pink boasts beautiful pink florals and Magic Blue cleverly displays rows of miniature Mickey icons. Retailers include ToysRUs, DisneyStore.com and Amazon.com. The Disney Netpal by ASUS will be made available in other countries in the Asia Pacific and Europe at a later date.
Specifications

Model
Disney Netpal by ASUS MK90H
Disney Netpal by ASUS MK90 – exclusively at ToysRUs
Operating System
Genuine Windows XP Home
Genuine Windows XP Home
Display
8.9″ LED-backlit WSVGA screen (1024×600)
8.9″ LED-backlit WSVGA screen (1024×600)
CPU
Intel ATOM N270
Intel ATOM N270
WLAN
802.11 b/g/n
802.11 b/g/n
Memory
DDR2 SO-DIMM 1GB
DDR2 SO-DIMM 1GB
Storage
160GB HDD
16GB SSD
Interface

1 x VGA port (D-sub 15-pin for external monitor)
3 x USB 2.0 ports
1 x LAN RJ-45
2 x audio jacks: Headphone / Mic-in

1 x VGA port (D-sub 15-pin for external monitor)
3 x USB 2.0 ports
1 x LAN RJ-45
2 x audio jacks: Headphone / Mic-in

Camera
0.3 M Pixel
0.3 M Pixel
Reader
MMC and SD (SDHC supported)
MMC and SD (SDHC supported)
Audio
Hi-definition audio CODEC
Built-in stereo speakers
Analog Mic
Hi-definition audio CODEC
Built-in stereo speakers
Analog Mic
Battery
4200mAh Polymer, 5hrs***
4200mAh Polymer, 5hrs***
Dimensions
248mm (W) x 173mm (D) x 28.7mm (H)
248mm (W) x 173mm (D) x 28.7mm (H)
Weight
1.2kg with battery
1kg with battery
Casing Colors
Princess Pink, Magic Blue
Princess Pink, Magic Blue
* Only available on models running English operating systems.
** Price may vary by location and specifications.
*** Subject to system configuration and usage.
Note: Specifications are subject to change without prior notice.