Denon is launching two new 3D-Ready* Universal Blu-ray players, which deliver an enhanced Blu-ray experience with networking capability.
The £599.99 DBP-2011UD and the £399.99 DBP-1611UD join Denon's critically acclaimed DBP-4010UD and DVD-A1UD Universal Blu-ray Disc players. Denon's Blu-ray players represent the leading edge in performance and features for the fast-growing high- definition format. The "universal" Blu-ray models provide superior playback of virtually all 5-inch silver discs, while featuring a fast loading mechanism for even the most complex Blu-ray discs available. The new DBPs feature high-bit video processing including a video equalizer to get the most out of Blu-ray Discs and standard definition DVDs as well.
In addition to their ultimate-quality video reproduction, all Denon players reflect the company's longstanding heritage as an audio leader, offering impeccable high-resolution sonic playback, including DVD-Audio and SACD.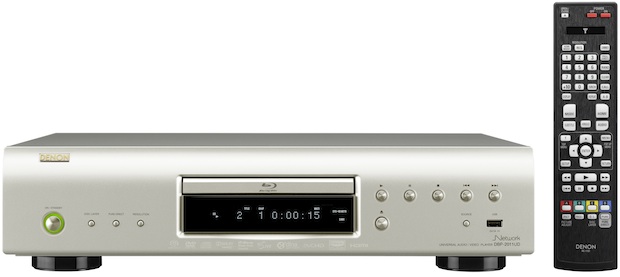 Both new Universal Denon Blu-ray players provide easy and straightforward access to the Internet, opening up new content and networking opportunities. For instance, both offer YouTube streaming* and are DLNA 1.5-certified for audio/video/photo streaming with other DLNA certified products across a network. In addition to their many innovative interactivity features, including built-in BD-Live and "Bonus View" functionality, they offer web access features with 1GB of on-board memory for BD-Live playback and a USB connector for additional external memory for media and BD-Live content. The players are also designed to enhance a consumer's total home entertainment experience with features such as Kodak Picture CD compatibility, as well as DivX HD+, MP3 and WMA playback (all via either recordable DVD/CD or external memory).
Denon's DBP-1611UD (August release) will be available in a black colour finish, while the DBP-2011UD (September release) will also be sold in a premium silver version.
*available through a firmware update in late 2010
DBP-1611UD at a glance:
Universal Player (incl. SACD and DVD-Audio playback)
3D Ready (via firmware update end of 2010)
DLNA support for audio/video/photo streaming via network
YouTube streaming
Denon audio quality circuit with dedicated 2-channel output
High-bit video processing
HD audio decoder with output via HDMI (v1.4a)
Fast loading & response
New GUI (Graphical User Interface)
BD-Live with 1GB internal memory
Available in black
Additional features DBP-2011UD:
High-bit audio D/A converter (32-bit/192kHz)
7.1 channel analogue output
High-bit ABT2015 video processor
RS-232C port
Available also in premium silver