Dell's Smallest PC Form Factor Doubles as a Media Center
Dell just introduced the new Inspiron™ Zino HD mini desktop computer measuring 8″ by 8″ square. Small form factors themselves are nothing new. But with the Inspiron Zino HD, Dell has worked to make a desktop that balances performance, size and price.
The Zino HD is available in many colors and design options: Flamingo Pink, Formula Red, Tangerine Orange, Plum Purple, True Blue, and Spring Green and Piano Black. Plus Dell Design Studio-inspired designs as well.
The Inspiron Zino HD comes standard with an integrated version of AMD's Radeon HD 3200 solution, but customers who want the best HD experience can opt for upgrading to the discrete version of the ATI Mobility Radeon 4330.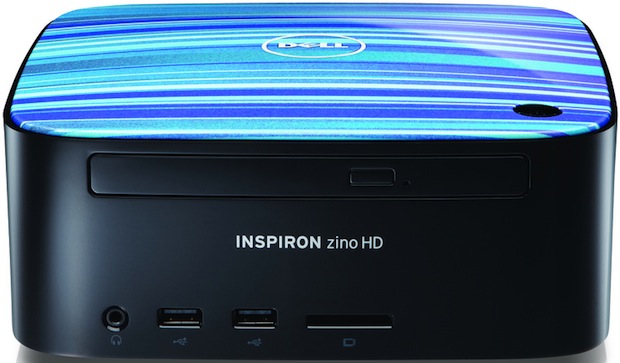 The Zino HD also offers more expandability options–including DDR3 RAM up to 8GB, an internal hard drive options up to 1TB. It also adds more external expandability through two E-SATA ports. Inspiron Zino HD customers can opt for an internal Blu-ray drive and can output it directly to an HDTV in the living room or elsewhere through HDMI. The Zinio HD can be ordered with two internal Wi-Fi network card options: the Dell 1397 card for 802.11b/g or the Dell 1520 card for 802.11b/g, and dual-band 802.11n. A 4-in-1 media card reader and integrated Gigabit Ethernet are both standard.
When outfitted with an upgraded processor — the discrete graphics card option — the Zino HD can stream Netflix HD movies or play Blu-ray movies in 1080p. Furthermore, the little box could be used as a Windows 7 Media Center hub. Dell offers the Inspiron Zino HD with Vista Home Basic as the base operating system. If used primarily as a Media Center Hub, Dell recommends upgrading to Windows 7 Home Premium or Ultimate.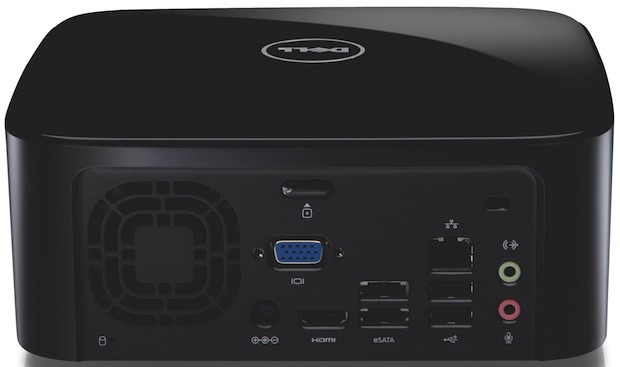 Pricing
The Inspiron Zino HD price starts at $229, but all the options can start to add up quickly. A fully loaded, customized system can easily exceed $1,000.
Specifications and Options:

Processors and Chipset

AMD Athlon Neo X2 6850e
AMD Athlon X2 3250e
AMD Athlon 2850e
AMD Athlon 2650e

Operating Systems

Genuine Windows 7 Home Premium 64-Bit
Genuine Windows 7 Professional 64-Bit
Genuine Windows Vista Home Basic 32-Bit
Genuine Windows Vista Home Premium 64-Bit
Ubuntu Linux 9.04

Memory

Up to 8GB of 800MHz DDR2 SODIMM

Hard Disk Capacity

160 GB (7200 rpm, SATA II)
250 GB (7200 rpm, SATA II)
320 GB (7200 rpm, SATA II)
500 GB (7200 rpm, SATA II)
750 GB (7200 rpm, SATA II)
1 TB (7200 rpm, SATA II)

Optical Disc

8x DVD +/- RW
DVDRW/BD-ROM

Graphics

ATI Mobility RadeonTM HD 3200
ATI Mobility Radeon HD 4330 (optional)

Sound Cards

Conexant CX20561 2.1 Channel

Communications

Broadcom BCM57780 10/100/1000
Mini PCIe WLAN card (802.11 b/g or 802.11 a/b/g/n)

Ports
Front Ports

Two USB 2.0 connectors
One headphone connector
One 4-in-1 memory card reader

Rear Ports

One microphOne connector
One line-out connector
One VGA connector
One RJ45 connector (10/100/1000)
two USB 2.0-compliant connectors
two eSATA connectors
one HDMI connector

Expansion Slots

Mini PCIe WLAN card (802.11 b/g or 802.11 a/b/g/n)

Form Factor
Dimensions & Weight

Height: 197mm (7.8″)
Width: 197mm (7.8″)
Depth: 89mm (3.4″)
Weight: 1.6kg (3.53lb)

Power

65 W with UMA
75 W with MXM Graphics card

Security
Drive Bays

One 3.5″ HDD
One 12.7 mm trayload ODD
Memory DIMM slots: 2 available