Extends Revolutionary Music Refinement, Bass Enhancement and Intelligibility Circuitry to New Ferrari Art.Engine System and Art.Solista
The David Wiener Collection (DWC), a luxury line of audio, entertainment, furnishing and fashion offerings, has announced it is expanding its application of proprietary DWC-Aphex music-enhancing circuitry to all of its luxurious home and office music systems.
The DW Collection has added DWC-Aphex Audio Enhancement Technology to its Collection, which includes the new Ferrari Art.Engine Powered Speaker System and the Art.Solista USB Wireless Transmission System. The award-winning Art.Suono Wireless Music Transmission System, also in the Collection, introduced DWC-Aphex technology earlier this year.
DWC-Aphex is licensed exclusively to DWC by Aphex Systems, Ltd. and employed for the first time ever as a consumer technology in several of the audio systems in the Collection. Developed in collaboration with Aphex Systems, a world leader in the professional audio field for over 30 years, DWC-Aphex brings life back to music performances compromised by the various conventional data compression methods used to reduce the bit rate.
These traditional processes remove data bits from the music, representing sound supposedly masked by higher-level signals. As more bits are removed, fidelity decreases. DWC-Aphex circuitry reverses the fidelity loss by restoring the harmonic richness lost during conversion and compression.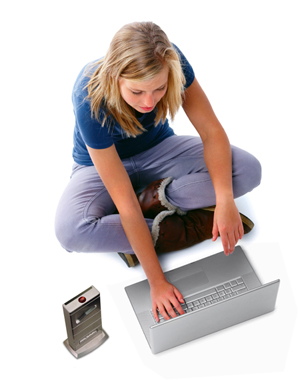 DWC-Aphex circuitry helps to maintain the musical experience the original artists intended. It restores musical harmonics; renders vocals, drums, pianos, guitars, and all instruments more distinctly; and increases stereo imaging to create more spacious and realistic performances. Bass frequencies come across as richer, deeper and more resonant, low-fidelity audio systems sound more convincing, and full-range systems are little short of amazing. The technology also improves speech intelligibility, the spoken clarity of books on CD and tape, Audible™ files, and podcasts.
DWC-Aphex was introduced in the Art.Suono, which paired an elegant transmitter of machined aluminum with carbon fiber accents and fine detailing, with a compact receiver that easily connects to any speaker system. Now, DWC has extended DWC-Aphex to the new Ferrari Art.Engine System, an upgraded edition of the original Art.Engine, and to the Art.Solista, which simplifies wireless audio transmissions from computers to speaker systems.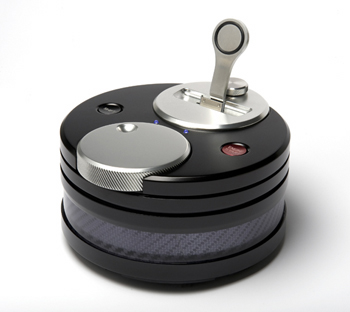 The DWC-Aphex Story
Professional recording engineers have long used Aphex technology to restore life-like sound to studio recordings. Aphex technology has been endorsed by the most demanding professional musicians and recording engineers, including Paul McCartney, Fleetwood Mac, Stevie Wonder, and Alan Parsons. It has been used by such organizations as ESPN and CNBC for such events as the 2009 Grammy Awards Show, and for such albums as Rumors, Abbey Road and Dark Side of the Moon.
After significant further development, DWC adapted and licensed Aphex technology for use in consumer audio components. The DWC-Aphex circuit intelligently restores musical transients with the right amount of harmonic content, enhancing the audio's 'live' characteristics. It improves the audible results of masking algorithms in the compression process by improving high-level sounds without amplifying the low-level masked signals. This renders inaudible the undesirable artifacts of the compression process. It makes music more enjoyable at lower levels without losing the detail and impact associated with high level listening, while dramatically reducing listening fatigue.
DWC-Aphex also reverses the loss of bass in compressed audio so that the low end sounds fuller and better defined. The bass enhancement circuit does not add anything, as does equalization, to the signal. It simply restores what was lost in production, adapting itself in subtle but significant ways to restore missing harmonics with the proper balance and only when appropriate, resulting in a more realistic and emotionally engaging listening experience.
DW Collection products are available now to select retail outlets and online at www.dwcollection.com at suggested prices of $20,000 for the Ferrari Art.Engine System, $990 for the Art.Solista, and $1,399 for the Art.Suono. They can be seen with other outstanding DWC products at Suite 1710, The Atlantic at Atlantic Station, 270 17th Street, during CEDIA. DWC National Sales Manager Kent Dimon can be reached at 404-213-9455 for transportation services while the show is on.
About DWC
David Wiener Collection is a design and innovation studio that creates some of the world's most exclusive and prestigious products. DWC products exhibit extraordinary, uncompromised performance, styling, materials and craftsmanship. The company is relentless in its pursuit of superior products and groundbreaking technologies.
Founded to create advanced vehicles, products, furniture and fashion, DWC prides itself on a unique operational model, based on experience with Formula One teams, that inspires its staff to optimize performance, style, operations, image and success.
DWC has worked with many of the world's great brands, including Ferrari, the U.S. Ski Team, Columbia, Cannondale, Ben & Jerry's, Nike, Ganassi IndyCar, Hollywood, TWR, Old Navy, Bloomingdales and many others. DWV programs have also been sponsored by such highly regarded companies as Adidas, Campagnolo, AMF, DuPont, Fischer, Salomon, Revo, and Vuarnet. In addition, DWC's work has been featured in major media worldwide, as well as on a PBS-TV documentary about David Wiener.