Integrated Cloud Backup Service Available
D-Link and CTERA Networks today announced that the D-Link ShareCenter™ Network Attached Storage (NAS) solution (DNS-323) has been enhanced with an integrated online backup service by CTERA.
Ideal for the data protection needs of "prosumers" and home offices, the online backup service safeguards against data loss and enables data recovery in case of disaster.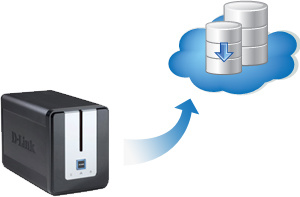 The online backup service offers D-Link 2-Bay ShareCenter users built-in offsite data protection that doesn't require PC software installation and works automatically directly from the NAS appliance. Differential backups and data compression are used to ensure quick and efficient backup. Users can automatically and securely back up data to reliable cloud storage and recover and access their files using a Web browser from anywhere, at any time. They can also roll back their stored files to previous versions, up to 30 days old.
"We are excited to extend the value of D-Link's highly acclaimed DNS-323 by offering CTERA's cloud-based data protection services," said Chris Gruber, Director, product line management, Storage. "With this cloud storage service fully-integrated with our hardware, we are continuing to offer D-Link customers the utmost in connectivity and disaster recovery with ease-of-use."
Unlike existing PC-based online backup services, the solution does not limit data backup to a single PC. Rather, it lets users backup all their important files from any PC to their D-Link DNS-323 NAS unit and safeguard them locally and remotely on the "cloud," with no limitations on file size, file type or the number of PCs on the network.
The DNS-323 (check price) is part of the D-Link ShareCenter product line that provides greater performance, flexibility and protection against content loss than ordinary external hard drives.
Key Features and Benefits
Easy setup — no PC software installation required
Fully automated online backup
Unlimited file types and file sizes
Incremental, compressed transmission with block-level data de-duplication
AES-256 encryption with customer specific secret key, plus 128-bit SSL
Retains previous file versions for up to 30 days
Access and restore files from anywhere using a Web-based portal
Availability and Pricing
Online backup for D-Link's DNS-323 will be available in June 2010. All new and existing DNS-323 owners are entitled to a free 30-day trial. Annual plans are available starting from $99 per year. Pay-as-you-go plans are also available, starting from $4.99 a month.
About D-Link
D-Link is the global leader in end-to-end connectivity for small, medium and large and Enterprise organizations, as well as the digital home. The billion-dollar company is an award-winning designer, developer and manufacturer of core-to-edge networking, broadband, digital electronics, voice, data and video communications solutions with millions of networking and connectivity products shipped worldwide.
About CTERA Networks
CTERA™ Networks revolutionizes storage and data protection for SMBs and branch offices with Cloud Attached Storage, a hybrid solution that combines secure cloud storage services with on-premises storage appliances for a seamless user experience. CTERA provides a cloud services platform that enables service providers and IT resellers to quickly deliver cloud storage, hybrid local/offsite backup and data protection as managed services to their customers.