Flagship HD Projector with 70,000:1 Contrast Ratio
Cineversum has introduced a new flagship model in their BlackWing High Definition digital video projector range. The BlackWing Four is a state-of-the-art full-HD 1080P digital projector with a 16:9 native aspect ratio, and designed to be used for high-end home cinema screens up to 210″ wide. It features three LCoS panels at a native resolution of 1920×1080 pixels, a contrast ratio of 70,000:1, and two HDMI 1.3 connections.
The BlackWing Four joins the recently revamped BlackWing Two and Three mk2010 3-chip LCoS models that have been acclaimed and awarded all around the globe. Retail price of the BlackWing Four in the U.S. and Canada is $17,325, and availability will be limited to a few select dealers in the U.S., Canada, and the Caribbean.
Engineered by Cineversum in Paris, France, every single projector is also carefully tested and hand-calibrated individually by the company's highly experienced video engineers to their European CRT like tuning standards. The color temperature (reference to D65) and the white field uniformity are optimized to provide very natural picture quality.
By means of superior components and proprietary company software, the new BlackWing Four creates new standards in terms of contrast ratio (70,000:1), black levels, and picture quality.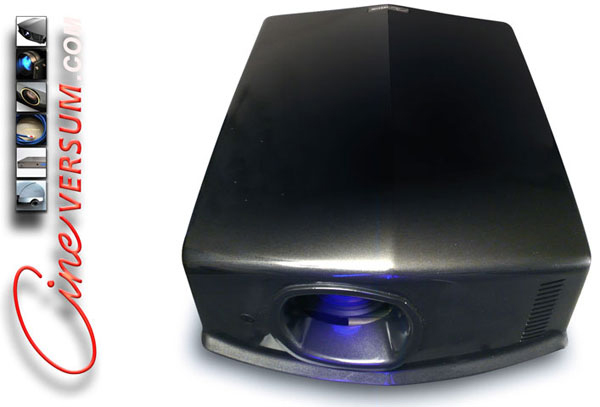 Thanks to the new True Cinema Black process of the BlackWing Four, dark scenes still remain very detailed and balanced, despite the amazing level of contrast.
John Caldwell, StJohn Group director of sales, stated, "We are particularly pleased to introduce the BlackWing Four to the North American market. Having a new reference model that pushes the envelope like the BlackWing Four gives our dealers a huge advantage in the market."
Installation Versatility
In addition to being a top notch performer, BlackWing Four is extremely easy to install. The versatile 2x lens (1.4-2.8:1 throw ratio) makes it compatible with virtually any kind of room. The vertical and horizontal lens shift capability (+/- 80% and +/- 34% respectively) can address any challenging configuration. Zoom, focus and shift are motorized, making installation easier and faster. With the keystone correction, it is simple to adjust the projector for the most razor-sharp picture, even when the projector is mounted in a less than ideal location.
For projection on cinemascope screens, and others, the BlackWing Four can also be easily retrofitted with its proprietary Cinema Pro Anamorphic Lens kit ($9,825). With only one key of the remote control, the user will be able to switch from the classic 16:9 aspect ratio to a breathtaking Cinemascope format. The exclusive Cineversum Theatre Mode makes this possible.
The BlackWing Four is available to order now.
BlackWing Four Carbon
Cineversum is also making the BlackWing Four available in a faux carbon fiber finish, at no extra charge. The BlackWing Four Carbon is a limited edition model, designed for high-end installations where the visual aspects of the projector are paramount.
Key BlackWing Four and BlackWing Four Carbon Features:
1080p24 format compatible: "cinema-like" motion
3x 0.7″ LCoS panels
Optimized out-of-the-box settings and pre-calibrated for D65.
Full-glass fully-motorized Pro Grade Lens™ for variable electronic aperture control for optimizing brightness and contrast according to room light levels.
9 modifiable preset Picture Modes, including TH-PRO optimized for dedicated dark rooms
16-step variable iris control for optimizing brightness and contrast according to room light levels
70 000:1 dynamic contrast ratio
+/- 80% vertical, +/- 34% horizontal Lens shift
Zoom 2x (1.4-2.8:1 throw ratio)
2x HDMI 1.3 inputs , plus one each: VGA, Component, Composite and S-video input
Internal HQV video processor/scaler that adapts for wide range of film and video cadences plus enhances the input signal and removes video noise and provides vertical stretch necessary for constant height scope viewing.
Ultra-Silent fan (< 19 dB)
Color Management System (C,Y,M,R,G,B gain and saturation) as found on Blackwing Three Mk2010.
Discrete IRE range RGB gamma
New lamp with longer lifetime (up to 3,000 hours in normal mode)
Home Automation friendly (RS232 via D-sub 9)
Keystone correction
12V trigger for controlling a screen or a motorized cinemascope kit.
Custom colors available
Can be upgraded with 2.35:1 Cinemax kit for constant height, 2.35 viewing
Dimensions: (w x h x d) 15.2″ x 8″ x 20.6″ / Weight: 28.7 lbs.
Elegant French design
About Cineversum
Cineversum initially was conceived as the dedicated consumer brand for famed Belgian video manufacturer Barco. In September 2004, Technic Electronic Conseil (T.E.C.) took over worldwide distribution of Barco home theater business, including the Cineversum name. T.E.C. is based in the Montmartre district of Paris, France.
Led by French industry pioneer Jean-Claude Younes, T.E.C. has successfully developed the Cineversum Home Cinema Concept. In close cooperation with partners such as Barco, Cineversum has steadily built a range of cutting-edge video products for the professional home theater market and are distributing them worldwide through a network of specialist distributors.
The BlackWing line, dedicated to the professional A/V installer, was awarded the prestigious Product of the Year 2008 award by Electronic House magazine.